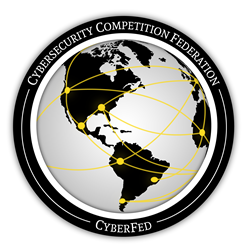 Competitions build on classroom knowledge and can be just as valuable as coursework, if not more.
Pomona, CA (PRWEB) February 19, 2015
Cybersecurity Competition Federation (CyberFed) is proud to announce a new website to promote cybersecurity competitions throughout the nation. The website features pathways to either enter a cybersecurity competition or promote one. Through educating individuals about various cybersecurity competitions, CyberFed is getting more people involved in this exciting, fast-paced and in-demand profession.
"Cybersecurity competitions are an opportunity to develop and test much needed skills sought by government and industry," states Dr. Dan Manson, Principal Investigator of CyberFed. "Competitions build on classroom knowledge and can be just as valuable as coursework, if not more. We don't want people to struggle to find a cybersecurity competition; CyberFed wants to make it easy for them."
The hacking heists of Sony Pictures, Anthem and the more recent international banking breach which stole as much as $1 billion from more than 100 banks, has brought heightened awareness to our country's need for more cybersecurity specialists. The key to testing cybersecurtiy skills in real-world scenarios is through various competitions. The newly launched CyberFed website offers information on these competitions and how to get involved.
Prior to having a platform such as CyberFed's website, it would be by word-of-mouth to learn of new and valuable cybersecurity competitions. CyberFed focuses on communicating and promoting the autonomy of all competition creators and business models without interfering in sponsorships or funding sources. By the additional promotions CyberFed provides, the more aggressively all competitions can train future cybersecurity professionals and get them into the workforce.
The website also features The CyberFed Show. This show was created to provide the latest insights on cybersecurity competitions and threats throughout the digital landscape. Information about cybersecurity competition news, player development and competition designs, The CyberFed show covers it all.
For more information about CyberFed and how to promote or search for a cybersecurity competition, go to http://www.cyberfed.org
For all media inquiries, contact Lynn Dohm at 815-717-6546.
About Cybersecurity Competition Federation (CyberFed)
CyberFed is a National Science Foundation association that received funding in 2012. CyberFed promotes and brings awareness to the developmental pathway of cybersecurity-based activities to ensure the growth of cybersecurity skills throughout the nation. Focusing on communication and promotion, CyberFed maintains the autonomy of competition creators and their business models. To support all cybersecurity competitions, CyberFed produces informational videos and documents to assists interested participants to identify a point-of-entry into the continuum of cybersecurity competition experiences. To learn more, visit http://www.cyberfed.org