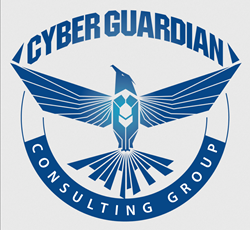 For businesses it is not a matter of if they will experience a security breach, it's a matter of when.
KINGSTON, New York (PRWEB) November 09, 2015
The Cyber Guardian Consulting Group has announced the launch of its new, next-generation endpoint protection and cyber security firm and website in Kingston, New York. Cyber Guardian's new offering focuses on the company's state-of-the-art endpoint threat detection and response product that identifies unknown malware, detects zero-day threats, and prevents damage from targeted attacks in real-time.
According to the 2015 Cost of Cyber Crime Study from the Ponemon Institute released Oct. 9, 2015, a benchmark study of 350 companies spanning 11 countries, the average consolidated total cost of a single data breach is $3.8 million. This figure represents a 23 percent increase since 2013. The annualized cost of cyber crime incurred in the United States is $15 million per affected business, with a range from $1.9 million to $65 million each year. The study also revealed that some businesses are addressing the significant costs associated with detection and recovery by investing in security intelligence firms like Cyber Guardian Consulting Group, which have proved to reduce response costs and provide a significant return on investment.
The study's field research identified three major reasons for the continuously rising costs of cybercrime:

An increase in both the frequency of cyber attacks and the costs involved in resolving security incidents
the fact that the financial consequences of losing customers in the aftermath of a breach is having a greater impact
more companies are incurring higher expenses in their forensic and investigative activities, assessments, and crisis team management.
Today's most damaging cyber attacks and data breaches are executed by relentlessly determined, extremely capable malware—software, usually fueled by state-run adversaries with the ability to bypass traditional defenses easily. Most existing countermeasures are designed primarily to detect and fight old malware and outdated forms of attacks and hacker tools. As these threats have evolved over the years, adapting to advanced and unseen threats has become much more difficult to discover within the ever-changing threat landscape if traditional anti-malware defenses are in place.
For businesses it is not a matter of if they will experience a security breach, it's a matter of when. Cyber Guardian is able to guarantee what is known as the "impenetrable wall approach" with respect to exfiltration of data, unlike competitors in the field that lack the appropriate defensive technologies and strategies.
The climate for gaping security holes is more treacherous than ever before. Not only have malicious cyber attacks become more numerous and widespread, they have become more diversified as well. This means that the variations in different malware strains makes them extremely hard to trace, much less contain. With hundreds of thousands of malware strains circulating the Web unchecked, the pressure on businesses to strengthen their safety walls via endpoint data protection has never been more intense.
Cyber Guardian leverages a lightweight kernel-mode sensor that shadows, captures, and correlates low-level operating system events to instantly identify adversary tradecraft and activities through Execution Inspection (EI) at the endpoint, mathematics and data science algorithms, and Machine Learning in the cloud. Instead of focusing on indicators of compromise such as malware signatures alone, Cyber Guardian operates under the premise that one technology approach cannot stop these highly sophisticated, carefully orchestrated attacks by itself—the kind of attacks that have brought down corporations, destroyed profits and ended careers.
According to Cyber Guardian Consulting Group CEO Nicholas Martin, today's cyber security software needs highly skilled monitoring, intrusion detection and first responder teams—people equipped with the best technology, and expert knowledge of that technology, in the industry.
"The Cyber Guardian platform is designed to provide that technical and human edge, integrating seamlessly into the system's current environment and providing access to the next generation of endpoint protection," Martin says. "Our cloud-managed applications supports Windows, Mac OSX and Linux workstations and servers to deliver instantaneous, real-time visibility into malicious activity on every endpoint device in a business or organization."
CGCG has succeeded in tackling the heart of cybercrime, as proven in the company's 1,000 percent growth in its first 6 months of operations. They are currently focused and maintaining malware-free environments in the healthcare, law, insurance and real estate sectors.
To find out more about the Cyber Guardian Consulting Group, visit the CGCG website, email info(at)cyberguardian(dot)consulting, or call 504-534-8273.
About Cyber Guardian Consulting Group:
Established in 2015, Cyber Guardian Consulting Group, LLC offers next-generation security, software and hardware solutions to businesses, organizations and individuals nationwide. CGCG services combine cutting edge security protocols, proactive maintenance, remote patching updates for operating systems and any installed third party software, along with custom tailored hardware support.
Malicious software programs have never been easier for criminals to acquire, which is why the number of threats caused by malevolent viruses has never been greater. CGCG's proprietary security module leverages protocols from more than 50 existing malware and anti-virus services, along with an actively learning algorithm that scans the organization's machines, registries and servers for actions that may seem like routine computer functions to the untrained eye, but in reality could be the harbingers of destructive software being planted onto your machines.
Cyber Guardian's remote patching service ensures that clients' machines are always running optimally, and allowing managers and staff to focus on the business instead of waiting around for updates to resolve issues. Web filtering and reports also allow users to be sure that their terminals are being used in accordance with the needs of each individual business. Computer security and maintenance can be a daunting task. Whether the aim is to secure a business against threats, ensure that company machines are running optimally or make upgrades to existing hardware, Cyber Guardian Consulting can help.
###