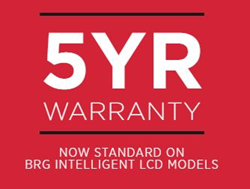 "Extending the standard warranty from three to five years exhibits the confidence we have in the quality of our BRG UPS systems to better serve the needs of our customers..." ~ Scott Koller, Vice President of Channel Sales, CyberPower
MINNEAPOLIS, MN (PRWEB) May 09, 2016
Cyber Power Systems (USA), Inc., a global leader in power protection and management products for small and medium-size businesses, enterprises and home offices, announces the re-launch of the BRG UPS models with five-year warranties. Effective immediately, all BRG Intelligent LCD UPS Systems now come with a full five-year product warranty.
"Since 2014, the BRG UPS lineup has been one of the most robust, feature-rich desktop UPS systems on the market," said Scott Koller, Vice President of Channel Sales at CyberPower. "Extending the standard warranty from three to five years exhibits the confidence we have in the quality of our BRG UPS systems to better serve the needs of our customers - now and in the future. When compared to competitive models with an extended warranty that must be purchased at an additional cost, our BRG UPS systems are on average 30% lower in overall price."
BRG UPS systems are from the popular Intelligent LCD UPS series that provide battery backup and surge protection for desktop computers, workstations, networking devices, and home entertainment systems. The BRG models feature Automatic Voltage Regulation (AVR) to correct minor power fluctuations, a multifunction LCD panel that displays battery and power conditions, front panel USB charging ports, and PowerPanel® Personal Edition software to monitor and safely shutdown the UPS. All BRG models now come with a five-year product warranty for added peace of mind.
"When compared to competitive products, the BRG family provides more features and functionality, including additional outlets, and the only major manufacturer with two shared 2.1A USB charging ports standard on each model. The stronger feature set, contemporary design, and new five-year warranty puts the BRG products in a class by themselves," added Tim Derochie, Director of Product Management at CyberPower.
In addition to the new warranty, the BRG family will feature a $15 rebate through authorized CyberPower distributors from May 1 to July 31, 2016.
About CyberPower Systems
CyberPower designs and manufactures uninterruptible power supply systems, power distribution units, surge protectors, remote management hardware, power management software, mobile chargers and connectivity products. The company serves customers in enterprise, corporate, government, education, and small office/home office environments. CyberPower products are available through authorized distributors and sold by value-added resellers, system integrators, managed service providers, select retailers, and online resellers. For product inquiries, call 1-877-901-1930 or email sales(at)cpsww(dot)com. To learn more, visit the CyberPower website, or follow CyberPower on LinkedIn, Twitter and Facebook.
©2016 Cyber Power Systems (USA), Inc. CyberPower is a registered trademark and brand of Cyber Power Systems (USA), Inc. All rights reserved. All other trademarks are property of their respective owners.