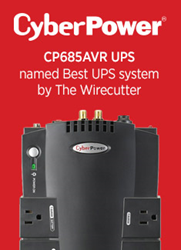 "This is a strong endorsement of CyberPower's ongoing commitment to provide customers the best choice for reliable, high quality power protection for personal and business applications." - Jonah Cagley, VP Marketing, CyberPower
Minneapolis, MN (PRWEB) July 07, 2016
Cyber Power Systems (USA), Inc., a global leader in power protection and management products for home offices, small and medium-sized businesses and enterprise organizations announces that The Wirecutter, a product review website, has rated the CyberPower CP685AVR the best uninterruptible power supply (UPS) for keeping a home network running and connected.
In the article, Mark Smirniotis, Wirecutter reviewer, wrote: "To find the best UPS for most people, we looked at the power output, battery capacity, and user comments on 28 of the highest-rated and most-popular UPS options on Amazon." Smirniotis adds, "During short blackouts, the CyberPower CP685AVR is our first choice as a UPS for anyone to keep a home network and modem online until the power returns. It's easy to set up, blessed with positive reviews from a large number of users, and supremely affordable."
Jonah Cagley, Vice President of Marketing at CyberPower states: "CyberPower is thrilled to be recognized by The Wirecutter for having the best rated UPS system in their recent review list. The Wirecutter has a staff of accomplished and highly-regarded experts and their review process is very thorough. This is a strong endorsement of CyberPower's ongoing commitment to provide customers the best choice for reliable, high quality power protection for personal and business applications."
The CP685AVR provides battery backup with simulated sine wave output and surge protection for desktop computers, workstations, networking devices, and home entertainment systems. The CP685AVR comes with a three-year warranty (including coverage of batteries) and a $125,000 Connected Equipment Guarantee.
About The Wirecutter
The Wirecutter is a list of the best gadgets—like cameras and TVs—for people who don't want to take a lot of time figuring out what to get. We take weeks to months of research and testing, including interviews and data from the best editorial and user sources around, and the help of engineers, scientists, and experts to find the best gear out there. Our aim to to help people find these things with the most authority, wisdom, context, honesty, empathy, and trust. Visit TheWirecutter.com to learn more.
About Cyber Power Systems (USA), Inc.
CyberPower designs and manufactures uninterruptible power supply systems, power distribution units, surge protectors, remote management hardware, power management software, mobile chargers and connectivity products. The company serves customers in enterprise, corporate, government, education, and small office/home office environments. Engineered to meet demanding requirements and exceed international safety and environmental standards, CyberPower products are available through authorized distributors and sold by value-added resellers, system integrators, managed service providers, select retailers, and online resellers. The company has offices and distribution centers in The Americas, EMEA, and Asia Pacific regions. For product inquiries, call 1-877-901-1930 or email sales(at)cpsww(dot)com. To learn more, visit CyberPowerSystems.com, or follow us on LinkedIn, Twitter and Facebook.
©2016 Cyber Power Systems (USA), Inc. All rights reserved. All other trademarks are property of their respective owners.