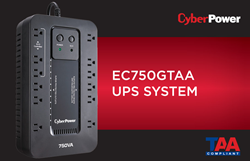 "This TAA compliant UPS has enhanced energy saving technology and is ideal for protecting workstations, monitors, and routers in an office setting." – Calvin Schneider, Product Manager
Shakopee, MN (PRWEB) July 12, 2016
Cyber Power Systems (USA) Inc., a leader in power protection and power management products, has introduced the EC750GTAA, a compact UPS system for businesses that require reliable battery backup and surge protection for computers, workstations, peripherals and networking devices. The EC750GTAA meets all requirements for TAA compliance in sales to U.S. government organizations.
The EC750GTAA delivers 750 VA (450 W) of 120 V AC power during a utility power failure for up to 12 connected devices. All AC outlets have 526 joules of surge protection; 6 also provide battery backup, and 3 operate in ECO Mode. ECO Mode is an energy-efficient, user-selectable feature for specific surge protected outlets. When the computer is off or is in sleep mode, the battery backup automatically cuts power to computer peripherals connected to any ECO Mode outlets. This feature helps reduce wasteful and costly power usage.
The EC750GTAA UPS features energy saving GreenPower UPS™ technology and is ENERGY STAR® qualified. This battery backup works with PowerPanel® Personal Edition software (free download available), a standard 3-year product warranty coverage, and a connected equipment guarantee that protects against damage to attached devices valued up to $100,000.
"This TAA compliant UPS system has enhanced energy saving technology and is ideal for protecting workstations, monitors, and routers in an office setting. The EC750GTAA is a compact battery backup offering a many user friendly features and energy saving benefits for business customers." states Calvin Schneider, Product Manager at CyberPower.
See the full line of uninterruptible power supply products from CyberPower Systems on their website.
Cyber Power Systems (USA), Inc. designs and manufactures uninterruptible power supply systems, power distribution units, surge protectors, remote management hardware, power management software, mobile chargers and connectivity products. The company serves customers in enterprise, corporate, government, education, and small office/home office environments. CyberPower products are available through authorized distributors and sold by value-added resellers, system integrators, managed service providers, select retailers, and online resellers. For product inquiries, call 1-877-901-1930 or email sales(at)cpsww(dot)com. To learn more, visit the CyberPower website, or follow us on LinkedIn, Twitter and Facebook.
©2016 Cyber Power Systems (USA), Inc. CyberPower is a registered trademark and brand of Cyber Power Systems (USA), Inc. All rights reserved.
# # #