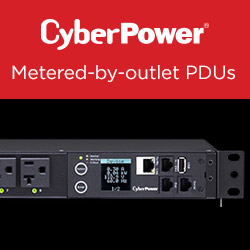 "Metered-by-outlet PDUs give administrators immediate information and complete control at the outlet level, which lets them make better decisions faster—and to take action right away, no matter where they are." - Tim Derochie, Dir. of Product Management
Minneapolis, MN (PRWEB) March 16, 2017
Cyber Power Systems (USA), Inc., a leader in power protection and management hardware and software, has launched nine new power distribution unit (PDU) products. Designed for use in data center, co-location, and environments with accurate power monitoring requirements, these new models allow active metering of individual outlets. This Metered-By-Outlet (MBO) capability provides detailed information on power consumption.
Each CyberPower MBO PDU provides real-time metering of each outlet, each circuit when applicable, and the PDU as a whole. This real-time information on outlet-level power draw allows operators to measure and manage power consumption. Automatic notifications keep administrators informed about changing conditions, and remote management capabilities let them respond quickly, while redundant internal power supplies adds resiliency. Together, these capabilities help maximize utilization and support decisions in device management and capacity planning.
"Administrators are always looking for ways to keep their systems running effectively," said Tim Derochie, Director of Product Management at CyberPower. "Metered-by-outlet PDUs give administrators immediate information and complete control at the outlet level, which lets them make better decisions faster—and to take action right away, no matter where they are."
All MBO PDUs feature color digital displays that provide easy-to-read information about amperage, voltage, KW, IP address, and more. They include SNMP functionality, and can be configured for automatic notification to deliver immediate alerts about power events via email, SMS or SNMP traps. Administrators can control individual outlets on site or remotely to manage events such as reboots, load shedding, and controlled power cycling, and create specific user profiles to manage select outlets.
120VAC and 208VAC MBO PDU models are available for 15A, 20A, and 30A loads, and each new model is covered by a three year limited warranty.
To see the complete line of switched metered-by-outlet PDUs, visit the CyberPower website.
To identify and select the right PDU solution for your needs, visit the CyberPower PDU Selector.
Between January 1–March 31, 2017, save 20% on all CyberPower PDU models. See website for details.
About Cyber Power Systems (USA), Inc.
CyberPower designs and manufactures uninterruptible power supply systems, power distribution units, surge protectors, remote management hardware, power management software, mobile chargers and connectivity products. The company serves customers in enterprise, corporate, government, education, and small office/home office environments. CyberPower products are available through authorized distributors and sold by value-added resellers, system integrators, managed service providers, select retailers, and online resellers. For product inquiries, call 1-877-901-1930 or email sales(at)cpsww(dot)com. To learn more, visit the CyberPower website, or follow CyberPower on LinkedIn, Twitter and Facebook.
©2017 Cyber Power Systems (USA), Inc. CyberPower is a registered trademark and brand of Cyber Power Systems (USA), Inc. All rights reserved. All other trademarks are property of their respective owners.