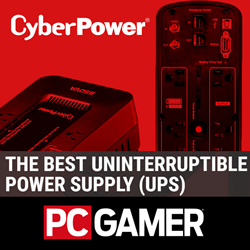 "We are honored to receive this recognition for our power protection products by gaming and computing experts." - Jonah Cagley, Vice President of Marketing at CyberPower
MINNEAPOLIS, MN (PRWEB) October 14, 2016
PC Gamer, the best selling magazine dedicated to computer gaming in both the United Kingdom and the United States, recently named the CyberPower CP1500PFCLCD, "The best UPS for most gamers." The magazine also called the CyberPower EC650LCD "The best UPS for your network and accessories."
From the only series (PFC Sinewave) of desktop UPS for home and office power protection with sine wave output, the CP1500PFCLCD provides battery backup and surge protection for computers, gaming systems, workstations, and peripherals. This line interactive UPS features 1500 VA/900 Watt capacity, 11 minutes of runtime (half load), automatic voltage regulation (AVR), and sine wave output for compatibility with devices that have active power factor correction (PFC) circuits.
PC Gamer and Maximum PC Editor-in-Chief, Tuan Nguyan, states: "The CP1500PFCLCD was able to sustain 18 minutes idle and about seven minutes while playing Star Citizen. Seven minutes during full system load is excellent performance for the price. That's more than enough time to save your game, log out, and gracefully power off your PC. In the event that you're not around, the CP1500PFCLCD can be set up to shutdown your PC if you connect it via USB to your system."
For network and accessories power protection, the EC650LCD Ecologic UPS with ECO Mode design was selected best. "For smaller accessories and network equipment, the CyberPower EC650LCD is the best pick for most people," said Nguyen. "[It] has enough power reserves to keep the average home network alive for well over 15 minutes, which is enough time to exit your game/applications, save all your work through the network, and shut everything off gracefully during a power outage. The EC650LCD is also small enough to hide away, taking up very little desktop room for a 390W unit."
The CyberPower EC650LCD UPS is a standby battery backup (650VA/390 W) with simulated sine wave output and surge protection. When the UPS system detects that the computer is off or in sleep mode, peripherals connected to its ECO Mode outlets automatically turn off, reducing power usage and energy costs (USB connection required).
Both the CyberPower UPS systems are ENERGY STAR® certified, provide a 3-year product warranty, and come with a Connected Equipment Guarantee.
"PC Gamer is an industry authority on gaming equipment and the gaming lifestyle," said Jonah Cagley, CyberPower's Vice President of Marketing. "At CyberPower, we are honored to receive this recognition for our power protection products by gaming and computing experts. We continuously strive to lead the industry in offering the most reliable, high quality, feature-rich power protection products available."
Read the entire review at the PC Gamer website.
About PC Gamer:
PC Gamer magazine has been published monthly since 1993 in the United Kingdom and since 1994 in the United States. It is the best selling publication dedicated to computer gaming in both regions. PC Gamer is part of Future plc, an international media group and leading digital publisher.
About Cyber Power Systems (USA), Inc.:
CyberPower designs and manufactures uninterruptible power supply systems, power distribution units, surge protectors, remote management hardware, power management software, mobile chargers and connectivity products. The company serves customers in enterprise, corporate, government, education, and small office/home office environments. Engineered to meet demanding requirements and exceed international safety and environmental standards, CyberPower products are available through authorized distributors and sold by value-added resellers, system integrators, managed service providers, select retailers, and online resellers. The company has offices and distribution centers in The Americas, EMEA, and Asia Pacific regions. For product inquiries, call 1-877-901-1930 or email sales(at)cpsww(dot)com. To learn more, visit http://www.cyberpowersystems.com, or follow us on LinkedIn, Twitter and Facebook.
©2016 Cyber Power Systems (USA), Inc. All rights reserved. All other trademarks are property of their respective owners.