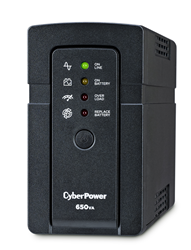 Power protection safeguards point of sale equipment, helps employees work efficiently, and keeps the registers ringing." ~ Scott Koller, Vice President, Channel Sales, CyberPower
MINNEAPOLIS, MN (PRWEB) July 26, 2016
Power problems can disrupt retail transactions. Research from The Standish Group shows that each minute of point-of-sale system downtime costs a retailer $4,700. In January 2016, the market research firm E Source reported that power outages cost U.S. businesses more than $27 billion the previous year.
Cyber Power Systems (USA), Inc., a global leader in power protection and management products for small and medium-size businesses, enterprises and home offices, announces the release of the RT650 UPS System for power protection in retail settings.
"Retailers invest in technology to improve productivity and profitability," said Scott Koller, Vice President of Channel Sales, CyberPower. "These range from scanners and scales to multi-station touch-screen systems with automatic ordering and reporting capabilities. Power protection safeguards point of sale equipment, helps employees work efficiently, and keeps the registers ringing."
Using feedback and feature requests from retail businesses, CyberPower created a UPS for point of sale environments. The new RT650 provides battery backup and surge protection where space is limited, such as at register counters, point-of-sale terminals, service desks, kiosks, ATMs, and gaming enclosures.
The RT650 is the only UPS in its class with 400 watts capacity. It delivers up to 66 percent more runtime at 300 watts than the APC BK500. It features six NEMA 5-15R outlets, phone/network line surge protection, and serial/USB communication ports in a small mini-tower form factor (3.6" W x 6.5" H x 11.0" D). Every RT650 UPS System is covered by an industry leading five-year warranty.
"Retailers have to be ready to accept payment at any time," said Tim Derochie, Director of Product Management, CyberPower. "If they can't process the cash or card, they can't close the deal. This new model will help retailers complete their transactions even if utility power becomes unstable."
From July 1 to September 30, 2016, the new RT650 will include a $10 instant rebate when sold through authorized CyberPower distributors.
About Cyber Power Systems (USA), Inc.
CyberPower designs and manufactures uninterruptible power supply systems, power distribution units, surge protectors, remote management hardware, power management software, mobile chargers and connectivity products. The company serves customers in enterprise, corporate, government, education, and small office/home office environments. CyberPower products are available through authorized distributors and sold by value-added resellers, system integrators, managed service providers, select retailers, and online resellers. For product inquiries, call 1-877-901-1930 or email sales(at)cpsww(dot)com. To learn more, visit the CyberPower website, or follow CyberPower on LinkedIn, Twitter and Facebook.
©2016 Cyber Power Systems (USA), Inc. CyberPower is a registered trademark and brand of Cyber Power Systems (USA), Inc. All rights reserved. All other trademarks are property of their respective owners.