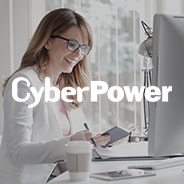 "We've made significant website upgrades in recent months to help site visitors find the information they need more quickly and easily." - Naomi Synstelien, Digital Marketing Manager, CyberPower
Shakopee, MN (PRWEB) July 06, 2017
Cyber Power Systems (USA), Inc., a leader in power protection and management products, has recently launched new website tools, buying guides, industry solutions, and upgraded support, on their site devoted to power management solutions.
The site features easy access to new and improved buying guides and tools, solutions for various business markets, and directs customers to areas on the website offering improved support features.
Scott Koller, VP Channel Sales at Cyber Power Systems (USA), Inc said, "We're excited to announce the addition of the Solutions section on the CyberPower website. This new section of our website is designed as a vertical specific resource for our end-user and channel partners. Our goal was to create engaging educational content for our five key business verticals: small office and home office, small and medium sized businesses, point of sale, state and local government agencies, and education. Through whitepapers, videos and interactive tools, we give our audience in-depth information on the right power protection solutions for their business applications and IT environments."
On the What's New page, solution providers, IT professionals, and tech-savvy consumers can expect to find instant access to the most significant enhancements that have been made to the website over the past year, as well as experience CyberPower's ongoing commitment to make power management as easy as possible.
Naomi Synstelien, Digital Marketing Manager for CyberPower (USA) adds, "We've made significant website upgrades in recent months to help site visitors find the information they need more quickly and easily. The website features the latest power management tools and information that will be most useful to business customers and consumers. On this page users will have easy access to tech support live chat service, our new rack configurator tool, the new UPS battery replacement tool. Visitors can also visit our newly improved UPS cross reference tool, UPS runtime calculator, and UPS product selector. Our cutting edge, responsive website allows users to navigate and download information from any computer, mobile phone or tablet faster than ever before."
Learn what's new on the CyberPower website at this location: https://www.cyberpowersystems.com/whats-new/
About Cyber Power Systems (USA), Inc.
CyberPower designs and manufactures uninterruptible power supply systems, power distribution units, surge protectors, remote management hardware, power management software, mobile chargers and connectivity products. The company serves customers in enterprise, corporate, government, education, and small office/home office environments. CyberPower products are available through authorized distributors and sold by value-added resellers, system integrators, managed service providers, select retailers, and online resellers. For product inquiries, call 1-877-901-1930 or email sales(at)cpsww(dot)com. To learn more, visit the CyberPower website, or follow CyberPower on LinkedIn, Twitter and Facebook.
©2017 Cyber Power Systems (USA), Inc. CyberPower is a registered trademark and brand of Cyber Power Systems (USA), Inc. All rights reserved. All other trademarks are property of their respective owners.