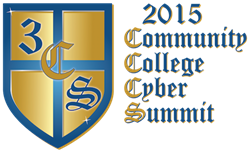 Las Vegas, Nevada (PRWEB) January 29, 2015
While cybersecurity specialists are busy throughout the country warding off hackers, academia is working hard educating more cybersecurity professionals to help. The Community College Cyber Summit (3CS) is the only national conference for cybersecurity faculty and administration at community colleges and is currently seeking cybersecurity professionals, educators and researchers to submit proposals to share their knowledge and expertise.
Held June 17th – 19th, at the College of Southern Nevada, the 2nd annual 3CS plans to assist the cybersecurity workforce by educating faculty and staff at community colleges to rapidly expand and enhance cybersecurity programs. Community colleges have capabilities to quickly respond and put in new appropriate programs geared towards the country's cybersecurity needs. 3CS's call for proposals from cybersecurity professionals, educators and researchers will allow knowledge from various experiences to contribute to this educational process.
3CS is currently seeking hands-on workshops that provide faculty the applied skills and resources needed to teach a cybersecurity course or topic. Presentations are needed on cybersecurity principles, safe practices and hands-on skills to professionals outside the IT arena. 3CS is also looking for researchers to either share their progress, request participation or brainstorm further research ideas.
According to a study conducted by consulting firm Frost & Sullivan, the estimated number of security professionals was around 2.25 million globally in 2013, but market indicators show the need for as many as 4.25 million security professionals by 2017, representing the potential for a 47% shortage in the cybersecurity workforce.
The job market for cybersecurity is growing tremendously, and summits like 3CS will give the community college educational system the leverage needed to best support the needs of critical infrastructures, such as telecommunications, transportation, energy, healthcare, banking and financial services, emergency services, manufacturing and water systems.
3CS is organized and produced by the National CyberWatch Center, National Center for Systems Security and Information Assurance (CSSIA), CyberWatch West (CWW), Cyber Security Education Consortium (CSEC) and Advanced Cyberforensics Education (ACE), funded by the National Science Foundation (NSF). The outcomes of 3CS will leverage community college's cybersecurity platforms across the nation by introducing the latest and greatest of technologies, best practices, curricula, products and more.
The deadline for 3-hour workshop proposals is February 15th and all other presentations deadlines are March 1st. To submit a workshop or presentation proposal, visit http://www.regonline.com/builder/site/tab1.aspx?EventID=1651519
To register for the Community College Cyber, visit http://www.regonline.com/2015communitycollegecybersummit.