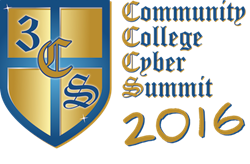 Pittsburgh, Pennsylvania (PRWEB) May 31, 2016
Community colleges are increasingly being recognized as strong gateways for students to access quality internships and top-paying jobs in cybersecurity. The Community College Cyber Summit (3CS) helps those schools improve their cybersecurity programs.
According to George Lorenzo's article in EdSurge, opportunities for gainful employment in cybersecurity have increased steadily with an 18 percent projected growth rate for information security analyst jobs between 2014 and 2024, 11 percent more than the average growth rate for all occupations. And many of those employed have two-year degrees from community colleges.
Community colleges are constantly developing, improving and expanding their cybersecurity educational options. The 3CS educates teachers and leaders at these schools and focuses on the role of cybersecurity in all technology fields. There are three different tracks to fit all community college needs, not just those with cybersecurity programs: colleges and faculty new to cybersecurity; people who teach cybersecurity safe practices, principles and hands-on skills to technicians; and those who teach those skills to people outside the IT field.
The 3CS is scheduled for July 22 to 24 in Pittsburgh, Pennsylvania. For more information on the 2016 3CS, visit 3CS.nationalcyberwatch.org
About Community College Cyber Summit:
The Community College Cyber Summit (3CS) is organized and produced by the National CyberWatch Center, National Resource Center for Systems Security and Information Assurance (CSSIA), CyberWatch West (CWW), Cyber Security Education Consortium (CSEC), Broadening Advanced Technological Education Connections (BATEC), and Advanced Cyberforensics Education (ACE) Consortium, which are all funded by the National Science Foundation (NSF). The outcomes of 3CS will leverage community college cybersecurity programs across the nation by introducing the latest technologies, best practices, curricula, products, and more. To learn more, visit 3CS.nationalcyberwatch.org.