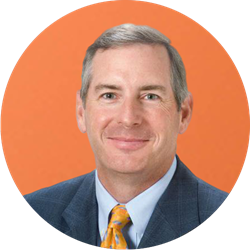 The current market need for a security data platform like DefenseStorm is immense and will continue to grow. The experienced leadership team and proprietary technology the team has built will drive rapid growth.
Seattle, WA (PRWEB) July 14, 2016
In the midst of rapid adoption of its innovative cybersecurity data platform, DefenseStorm announced $6 million in fresh financing and the appointment of fintech and cloud veteran Sean Feeney as CEO.
"We have admired Sean's leadership and operating performance across his last two successful company-building endeavors," said Jeff Lunsford, Co-founder and Chairman of DefenseStorm. "Sean's proven ability to build enterprise software companies that delight their customers with world-class service will be immensely valuable as we continue to scale DefenseStorm within financial services and expand our value proposition to include additional verticals," continued Lunsford.
Prior to joining DefenseStorm, Feeney was the CEO at GT Nexus (GTN), the developer and operator of the largest cloud-based supply chain network platform. Feeney is credited in this role for realizing GT Nexus's vision and implementing its profitable growth strategies. Under his direction, GTN was acquired by Infor for $675 million. At the time, approximately 25,000 businesses relied on GT Nexus's cloud-based global commerce platform; including several of the top 25 supply chains in the world.
"I had not planned to take an operational role this quickly after the sale of GT Nexus, but the opportunity to join the team at DefenseStorm's was just too good to pass up," said the newly appointed CEO. "The current market need for a security data platform like DefenseStorm is immense and will continue to grow. The experienced leadership team and quality of the proprietary technology the team has built will drive rapid growth. I will be focused on growing the organization to provide support to our rapidly expanding customer base," continued Feeney.
Success and growth are not new to Feeney, who was an Operating Executive with Golden Gate Capital and the Chief Executive Officer of Inovis, from 2005 until a 2010 merger with GXS - a transaction that created the largest B2B integration services and e-commerce provider with 40,000 customers worldwide. As an accomplished technology veteran with over 30 years of leadership experience, DefenseStorm is excited to welcome him aboard.
Feeney's work experience also includes roles as Executive Vice President at CheckFree (acquired by Fiserv for $4.4 billion), Chief Operating Officer at Clarus Corporation, and Executive Vice President at Dun & Bradstreet Software. He currently sits on the board of TrendKite and is a former board member and past Chairman of the Technology Alliance of Georgia (TAG). Feeney earned a Bachelor's degree in Engineering from the United States Military Academy at West Point.
DefenseStorm also announced an additional $6 million in growth financing from existing and new investors, including TTV Capital; which contributes extensive expertise in fintech, SaaS and cybersecurity.
"TTV is thrilled to be invited to invest in DefenseStorm. I worked with Sean at CheckFree when I was the Vice Chairman and it's great to work with him again, given his outstanding track record. With his leadership and the team that has been assembled, TTV believes they can effectively scale and manage a fast-growing company," said Mark Johnson, a general partner with TTV Capital.
"With this new funding round, DefenseStorm plans to continue our rapid growth by scaling our sales, marketing, engineering, and customer success teams; and expanding into other verticals where our innovative solution has led to substantial inbound interest," said Edgardo Nazario, Co-founder of DefenseStorm. Nazario will remain with the company as Chief Product Officer to head all product and customer operations.
###
About DefenseStorm
DefenseStorm is a Security Data Platform that watches everything on your network and matches it to your policies, providing cybersecurity management that is safe, compliant and cost effective. Built from the ground up in the cloud, DefenseStorm unifies detection, investigation, reporting, and compliance into a single place to manage cybersecurity data. Formed by bankers and technology experts, DefenseStorm aggregates event data across all cybersecurity tools and links policies to real-time alerts, so that financial institutions can prove to regulators they are both secure and compliant with evolving FFIEC cybersecurity requirements. For more information please visit http://www.DefenseStorm.com.
About TTV Capital
TTV Capital invests in fintech businesses with disruptive technologies, software-as-a-service solutions or cloud applications that have scalable business models and exceptional growth opportunities. To learn more, visit http://www.ttvcapital.com.