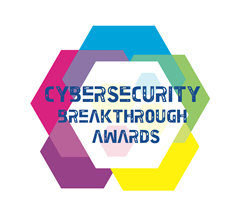 "Congratulations to all of the "Break Through" companies for their well-deserved cyber security industry recognition."
LOS ANGELES (PRWEB) September 26, 2018
CyberSecurity Breakthrough, an independent organization that recognizes the top companies, technologies and products in the global information security market, today announced the winners of its 2018 awards program. The winning CyberSecurity Breakthrough selections showcase information security technologies and companies that push ingenuity and exemplify the best in cybersecurity technology solutions across the globe.
"2018 has been another banner year for the information security industry as consumers and businesses continue to battle a wide array of complex cyber threats," said James Johnson, managing director at CyberSecurity Breakthrough. "This year we witnessed a significant amount of industry attention towards reducing liability through regulatory compliance, an emphasis on fraud prevention and an overall focus on improved intelligence and threat management through the application of artificial intelligence and advanced data analytics. We are pleased to see the these trends and the progress of the industry, and we are excited to officially announce our list of 2018 CyberSecurity Breakthrough Award winners. Congratulations to all of the "break through" companies for their well-deserved industry recognition."
The mission of the CyberSecurity Breakthrough Awards is to honor excellence and recognize the innovation, hard work and success in a range of information security categories, including Cloud Security, Threat Detection, Risk Management, Fraud Prevention, Mobile Security, Email Security and many more. This year's program attracted more than 3,000 nominations from over 14 different countries throughout the world.
All nominations were evaluated by an independent panel of experts within the information security industry, with the winning products and companies selected based on a variety of criteria, including most innovative and technologically advanced products and services.
The 2018 CyberSecurity Breakthrough Award winners include:
Cyber Security Leadership
Overall CyberSecurity Company of the Year: Darktrace
CISO of the Year: Grant Bourzikas, McAfee
Enterprise CyberSecurity Solution of the Year: Carbon Black
SIEM Solution of the Year: empow
SMB CyberSecurity Solution of the Year: Barkly
Cloud Security
SaaS Security Solution of the Year: Duo Security
Managed Security Service of the Year: Arbor Networks, the Security Division of Netscout
Cloud Security Startup of the Year: RedLock
Threat Intelligence
Overall APT Solution Provider of the Year: XM Cyber
Overall Threat Detection Solution of the Year: Vectra
Threat Intelligence Platform of the Year: AlienVault
Threat Intelligence Company of the Year: Blueliv
Threat Detection Innovation Award: Lastline
Behavior Analytics
User Behavior Analytics Platform of the Year: Bay Dynamics
Unified Threat Management
IDS Solution Provider of the Year: HARMAN, a Samsung company
Next Generation Firewall Solution of the Year: SonicWall
Web Security
Secure Web Gateway Solution of the Year: Cyren
Overall Web Security Solution Provider of the Year: RiskIQ
Encryption
Consumer Encryption Solution of the Year: SaferVPN
Enterprise Encryption Solution of the Year: CSPi
Overall Encryption Solution of the Year: Enveil
Overall Encryption Solution Provider of the Year: Futurex
Fraud Prevention
Overall Fraud Prevention Solution of the Year: Terbium Labs
Fraud Prevention Innovation Award: Experian, CrossCore Platform
Fraud Prevention Product of the Year: buguroo
ID Management
Privileged Access Management Solution of the Year: Remediant
Authentication Solution of the Year: Venafi
IoT Security
IoT Device Security Solution of the Year: NXP Semiconductors
Overall IoT Security Solution Provider of the Year: ForeScout Technologies
Mobile Security
Mobile VPN Solution of the Year: Perimeter 81
Overall Mobile Security Company of the Year: Zimperium
Network Security
Network Security Scanner Solution of the Year: Picus Security
Overall Network Security Solution of the Year: ExtraHop
Network Security Innovation Award: Corelight
Policy Management & Regulatory Compliance
Policy Management Solution of the Year: Security Compass
Compliance Software Solution Provider of the Year: OneTrust
Risk and Vulnerability Management
Enterprise Risk Management Software of the Year: Kenna Security
Overall Risk Management Solution of the Year: Rsam
Risk Management Innovation Award: Allgress
Overall Incident Response Solution of the Year: Nuix
Security Orchestration and Response
Security Orchestration Solution of the Year: Siemplify
Overall SOAR Platform of the Year: Fluency
About CyberSecurity Breakthrough
Part of the Tech Breakthrough Awards organization, the CyberSecurity Breakthrough Awards program is devoted to honoring excellence in information security and cybersecurity technology companies, products and people. The CyberSecurity Breakthrough Awards provide a platform for public recognition around the achievements of breakthrough information security companies and products in categories including Cloud Security, Threat Detection, Risk Management, Fraud Prevention, Mobile Security, Web and Email Security, UTM, Firewall and more. For more information visit CyberSecurityBreakthrough.com