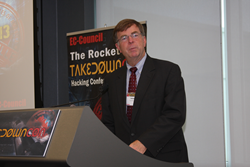 Albuquerque, NM (PRWEB) February 13, 2014
The Rocket City TakeDownCon hosted by EC-Council partner Dynetics, Inc. will deliver a comprehensive analysis of Cyber Security through EC-Council's industry-leading training and thought-provoking keynotes in two focused tracks. Delegates will spend Day 1 on the Attack, learning how even the most protected systems can be breached. Day 2 will be dedicated to Defense and delegates will learn how to defend information and networks from nefarious and persistent attacks deployed by cutting edge hackers.
Keynote speaker Kellman Meghu, the head of security engineering for Checkpoint Software Technologies, will present "How Not To Do Security" which he says, "will use the Star Wars theme to examine how businesses continually fail at some of the most basic security controls. This presentation seeks to do a postmortem on a galactic empire security posture, so that we can learn from their mistakes and hopefully ensure we are not missing key elements in our own security policy."
Live, instructor-led training in the industry-leading EC-Council suite of certifications, including their flagship Certified Ethical Hacker, Certified Hacking Forensics Instructor, Computer Security Analyst, and Licensed Penetration Tester will also be available at the Conference. Other advanced hacking courses will be offered in areas such as Advanced Mobile Hacking and Forensics, Advanced Network Defense, and Securing Windows Infrastructure.
To learn more about The Rocket City TakeDownCon and to register for the event visit: http://www.takedowncon.com/2014/rocketcity.
About EC-Council
The International Council of E-Commerce Consultants (EC-Council) is a member-based organization that certifies individuals in various e-business and security skills. EC Council is the owner and developer of the world-famous E-Council Certified Ethical Hacker (CEH), Computer Hacking Forensics Investigator (C|HFI), Certified Security Analyst (ECSA), License Penetration Tester (LPT) programs, and various others offered in over 60 countries around the globe. These certifications are recognized worldwide and have received endorsements from various government agencies including the US Federal Government via the Montgomery GI Bill, and the US Government National Security Agency (NSA) and the Committee on National Security
Systems (CNSS) certifying EC-Council's Certified Ethical Hacking (CEH), Network Security Administrator (ENSA), Computer Hacking Forensics Investigator (CHFI), Disaster Recovery
Professional (EDRP), Certified Security Analyst (E|CSA) and Licensed Penetration Tester (LPT) program for meeting the 4011, 4012, 4013A, 4014, 4015 and 4016 training standards for information security professionals and most recently EC-Council has received accreditation from the American National Standards Institute (ANSI).
For more information about EC-Council, please visit http://www.eccouncil.org.
About Dynetics
Dynetics delivers the "Power of Solutions" to government and commercial customers in the areas of intelligence, missiles, aviation, cyber and space. Based in Huntsville, Ala., with offices throughout the United States, Dynetics is a mid-tier company that provides complete lifecycle analysis, engineering and hardware solutions to support customer missions.
For more information visit: http://www.dynetics.com