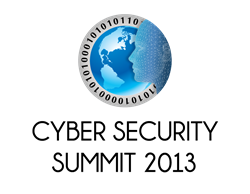 CEO's cannot down-source defending their organizations against cyber attacks to their corporate IT departments any more.
Minneapolis, MN (PRWEB) September 04, 2013
Once again aligned with National Cyber Security Awareness Month, Cyber Security Summit 2013 will be held October 22 and 23 at the Minneapolis Convention Center. More than 500 IT Security professionals, lawyers, underwriters and policy makers will convene at this thought leadership conference. A special reception preceding the Summit on October 21 will allow for VIP guests to interact with keynote speakers, panelists, and other leaders.
This year's Summit comes on the heels of the highly anticipated framework for cyber security set forth by the Presidential Executive Order this past February. Following an ambitious timeline proposed by the federal government, the National Institute of Standards and Technology (NIST) has been tasked to organize quarterly workshops, meetings, and cross-sector collaboration between industry, government, and academia, to release a final report in October of this year. Summit participants will be some of the first in the nation to hear firsthand from those instrumental in its theory and design. Implications from the executive order will have far reaching effects spanning topics such as critical infrastructure protection, privacy, and economic opportunities.
"CEO's cannot down-source defending their organizations against cyber attacks to their corporate IT departments any more. Instead, they need to take the lead in making cyber security a corporate information risk management issue" said Gopal Khanna, Summit Co-Founder and Chair and Senior Fellow at the Technological Leadership at the University of Minnesota. He added, "business leaders know that corporate IP (intellectual property) is at the heart of their organization's comparative advantage. They need to recognize that this advantage can be lost with the click of a mouse by anyone, from anywhere in the hyper connected digital world we live in."
The Summit will feature nationally recognized speakers throughout the two days, including Marcus Alldrick, CISO, Lloyd's of London; Barry Caplin, Chief Information Security Officer, MN Dept. of Human Services; Anders Folk, Attorney/Shareholder, Leonard, Street and Deinard; Nate Lesser, Deputy Director, National Cybersecurity Center of Excellence, NIST; Michael McNeil, Global Chief Privacy and Security Officer, Medtronic; Lt. General Harry Raduege, Jr., Chairman of the Deloitte Center for Cyber Innovation; Dr. Ron Ross, Fellow, NIST; Jim Stickley, CTO, Trace Security, and other distinguished speakers. In addition, panel discussions and networking breaks will allow attendees to collaborate on cyber security initiatives, learn from cross-industry perspectives, and walk away with actionable solutions.
Topics covered include risk management, security intelligence, the privacy debate, the executive response, data breaches, and the consequences on inaction.
The 2013 Cyber Security Summit is open to private and public organizations. Great savings are available for students, faculty, and staff who register before September 15. For the agenda, registration, and sponsorship information, visit http://www.cybersecuritysummit.org.
About Cyber Security Summit 2013:
The Cyber Security Summit changes the paradigm of how we look at digital space and security by clarifying the impact that cyber security has on our nation's government and business operations. The Summit's creates multi-stakeholder venues which bring together business leaders; local, state and federal government; and citizens at large, to lead and innovate solutions to cyber threats. With prominent keynote speakers and engaging panel discussions, Summit participants experience greatly enriched conversation with fellow leaders and discover security strategies which are working today, those that aren't, and those which have yet to be discovered.