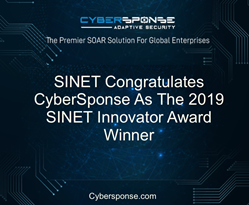 "CyberSponse has grown tremendously since our inception in 2011, we are very pleased to be recognized with this award," said Larry Johnson, CEO of CyberSponse.
ARLINGTON, Va. (PRWEB) September 17, 2019
CyberSponse, the premier SOAR (Security Automation Orchestration Response) solution for global enterprises, is honored to be selected as a winner for the 2019 SINET16 Innovator Award! Annually SINET's esteemed judging committee reviews hundreds of the top emerging technologies and products from cybersecurity companies, from these only 16 of the most innovative companies are chosen as the winners.
As a recipient of the 2019 SINET16 Award, CyberSponse has been invited to present our SOAR solution on stage in Washington D.C. at the annual SINET Showcase and Reception November 6th and 7th, 2019 at The National Press Club. "CyberSponse has grown tremendously since our inception in 2011, we are very pleased to be recognized with this award. I'm looking forward to speaking at the SINET Showcase regarding company culture and how employees can play a vital role in the prevention of insider threats" said Larry Johnson, CEO of CyberSponse.
CyberSponse was chosen for the prestigious award due to our incident response platform CyOPs™, which provides a single pane of glass that fortifies your data and maximizes efficiency, which contributes to the advancement of the cybersecurity community. The CyberSponse CyOPs™ SOAR platform enables analysts to efficiently evaluate threats by automating the collection of data from hundreds of enterprise security tools. The raw log data collected and pre-processed by CyOPs™ SOAR is then presented to analysts in a concise, visually appealing way, enabling near real-time evaluation of an attacker's progression in the attack lifecycle. In addition to presenting data to the analyst, the CyOPs™ SOAR platform documents this information as part of its incident management functionality. This ensures analytical outputs are available to all members of the team in real-time. Additionally, our SOAR platform facilitates cross-functional collaboration with our integrated chat feature for minute-by-minute security analyst collaboration and role-based ticketing system. CyOPs™ was designed to automate your SOC and eliminate alert fatigue, increasing the efficiency and effectiveness of your team.
About SINET
Cybersecurity innovation and evolution requires industry and government to have continuous and intimate communication with pioneering solution providers, researchers and investors focused on strengthening global security solutions. SINET is widely recognized as the premier catalyst for building a global community of interest and trust within the security domain. By promoting inspired innovation models, embracing executive-level collaboration and invigorating private-public partnerships, participation in the SINET community offers many benefits to its members.
Learn More About SINET
Register to Attend The SINET Showcase, Washington DC
Apply to Become a SINET Member
About CyberSponse
Founded in 2011, CyberSponse is the only patented automated incident response SOAR platform that fills the gap between automation-only and human dependent security organizations. The CyberSponse CyOPs™ SOAR Platform permits the automation of hundreds of security tools with incident management, case management, and analysis console for easy use and rapid deployment.
With over 280 out-of-the-box connectors, a war-chest of playbooks, and our free Community Edition, CyberSponse is aggressively dominating the CPT and SOC Security Orchestration Automation and Response (SOAR) platform marketplace.
Learn More About CyberSponse
Download our Free Community Edition
Follow CyberSponse on LinkedIn and Twitter for the Latest Cybersecurity News