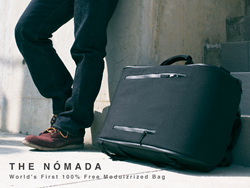 Smart, stylish and adaptable carryon-size 3 way bag designed for busy professionals, jet setters, digital nomads, travellers, and adventurers.
San Jose, CA (PRWEB) January 29, 2016
CYCOP is inventing a new bag with 100% free modularized system. CYCOP launches the Nómada on Kickstarter Wednesday, January 27th. The campaign still has 44 days remaining, continuing till March 12th, 2016.
The Nómada is not only convertible between briefcase, backpack, and shoulder bag styles to meet different needs, but its killer feature is to utilize bag space and layout easily through its innovative bag in the bag concept with modular features. This means customers can always create the most suitable bag and find the best arrangement to meet different styles and cope with any kinds of situation.
The Nómada can become a lie-flat status and helps a lot when arranging stuffs and uses any kind of personal gears inside of the bag.
Backers of the Kickstarter campaign can choose from two different packages, Daily Pack and Travel Pack starting at 179 USD:
Daily Pack- The basic 35 liter backpack: 57 cm x 34 cm x 20 cm, made by 1000D Codura and carry-on sized, water-repellent - changes from professional briefcase to casual backpack to or decent shoulder bag by prompt repositioning straps system. This pack also includes basic accessories such as handy bag, coin pouch, and smartphone bag for more convenient use.
Travel Pack- The whole Daily Pack gear with advanced waterproof bag, sunglass bag, heavy gear sleeves, and an innovative rolling bag to keep 2 day luggage more efficiently while packed.
To view the Nómada Kickstarter campaign, visit: http://kck.st/1nzw7qF
About CYCOP
CYCOP is based in San Jose, United States and with branch office in Taiwan. CYCOP is an urban lifestyle brand focusing on creating elegant city transportations, accessories for urban dwellers. The vision is to create the ultimate design, to inspire everybody in each moment and experience.