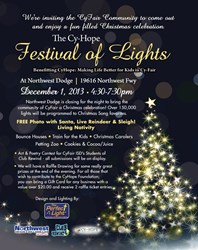 The Cy-Hope Festival of Lights will be a night to remember for the Cy-Fair area.
Houston, TX (PRWEB) November 25, 2013
Northwest Chrysler Jeep Dodge Ram will be lit up with the lights and sounds of the holiday season during the Cy-Hope Festival of Lights from 4:30 to 7:30 p.m. Dec. 1. More than 150,000 colorful, twinkling lights will be synchronized to flash and wink in time with popular Christmas songs. Proceeds from the community event at 19616 Northwest Freeway will benefit Cy-Hope to help make life better for Cy-Fair children.
The dealership is closed that evening so the community can attend the dazzling light show. Santa Claus will be inside come sit for free photos for the children, and he's bringing Dasher and his sleigh, and Christmas carolers. The festival will also feature a living nativity, bounce houses, a train for kids, cookies, cocoa and juice. Submissions from Cy-Fair ISD students in Club Rewind's art and poetry contest will be on display.
Entry is free, but attendees are asked to bring a $20 gift card from any business to benefit Cy-Hope and their outreach programs. Each gift card earns two raffle entries. The light show was designed by The Perfect Light.
Cy-Hope brings hope to at-risk students so they will grow up to be well educated and productive citizens, making a lasting and positive impact on the community of Cy-Fair. Cy-Hope serves as a catalyst to bring needs and solutions together. Its Backpack Program provides food for more than 1,850 needy school children each weekend, while the Center for Children & Families offers counseling with a variety of therapists.
The nonprofit also provides scholarships to qualified at-risk students, provides life-skill classes, sports, games and tutoring in trailer parks and apartment complexes, and caring, positive role models at the Larry Dierker Baseball Academy.
For more information, email mcarruba(at)northwestdodge(dot)com or visit Northwestdodge.com.
The Cy-Hope Festival of Lights
Sunday, Dec. 1
4:30-7:30 p.m.
Northwest Dodge
19616 Northwest Freeway
Houston, TX 77065