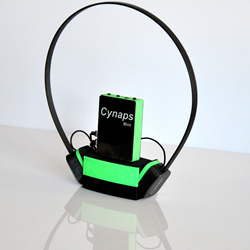 Max Virtual is offering backers of Cynaps Mint a choice of one thousand color combinations
San Francisco, CA (PRWEB) December 05, 2014
Max Virtual has launched its third Indiegogo campaign on Wednesday for its latest product, Cynaps Mint, the world's first 3D printed, Bluetooth headset that uses bone conduction, or vibration, to direct sound to the inner ear, simply by placing the unit anywhere on the head. The ears remain unobstructed, allowing the wearer to hear his or her immediate environment while listening to audio or taking calls from a smartphone, tablet or PC.
What makes Cynaps Mint truly unique is its ability to be customized and transformed. It can be disconnected from its frame and reconfigured to be installed into any headgear such as a hat, helmet or even a hardhat to allow discreet connectivity. Bikers, joggers and drivers can use it to stay safe by keeping their ears open for traffic and emergency situations.
Apart from its main role as a headset, Cynaps Mint holds a second title - as the world's first and only true stereo vibration speaker, making any pair of surfaces it comes in contact with resonate with the sound it generates through vibration. Each surface, such a table or a window, produces its own unique sound, giving its own 'flavor' to the music or audio being transmitted.
Max Virtual is offering backers of the Cynaps Mint campaign a choice of over one thousand color combinations, a feat the company credits to the flexibility and customization speed that 3D printing can provide over traditional manufacturing methods. It is currently offering Christmas delivery to backers in the US, UK and Germany for those who back the project over the next few days. The Cynaps Mint project has already raised 21% of its $20,000 goal within its first 48 hours of launch and is currently in the top 30 trending tech projects on Indiegogo.
The project can be found on Indiegogo here.
Source: Max Virtual LLC