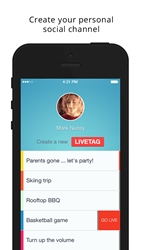 "Cynny's mission is to give people the freedom to express themselves without restriction by providing a powerful, private, and simple service that anyone can use," said Stefano Bargagni, founder and CEO of Cynny.
Menlo Park, Calif. (PRWEB) September 17, 2014
Cynny, a consumer service that lets you make personal mobile web pages, called LIVETAGs, launched today in the Apple App Store, on Google Play, and at http://www.cynny.com. People can upload any of type of content to a LIVETAG, which is instantly online and can be viewed by anyone with a browser. Users can control the audience they share the content with and make it private in one touch. Cynny also provides unlimited cloud space.
"Cynny's mission is to give people the freedom to express themselves without restriction by providing a powerful, private, and simple service that anyone can use," said Stefano Bargagni, founder and CEO of Cynny. "People want more personal interactions with their friends online than what is available today. Cynny will be there to help fill that gap."
The Online Clutter Problem
In a survey involving about 1000 people in the U.S., nearly 70 percent of people said their social media feeds were too cluttered with things like ads and irrelevant content. When asked, 55 percent said they want to see more photos of their family or friends but cited privacy was the main problem today with photo sharing on social media.
Additional survey feedback found that:

71% of people said that privacy was extremely important when sharing content while just 4% said it was not important
People share content to connect with friends, have fun, show funny things, or for entertainment
45% of people share frequently while 28% said rarely with females 10% more likely to share than men
People share in the following ways:
o 44% share on social media
o 33% share through email
o 16% text via carrier
o 5% via messaging apps
o 2% other or forums
"Sharing is not the problem today. It's really about seeing and enjoying content that is most relevant to you, cutting through the clutter, and having control over your personal photos and videos," said Renato Iwersen, CBO of Cynny. "We designed Cynny so that you can maintain control over privacy and exposure of the digital footprint throughout your life."
Giving People Control over their content
With Cynny, people can create stunning LIVETAGs that they can share with friends or family on social media, messaging app, text message, or email. Privacy is strengthen in Cynny; users can make the LIVETAG private whenever they want, retracting the posts they made and without losing their content.
People can create as many LIVETAGs as they want for free. They can add photos or videos they already took or take them inside the app. They can also add text, music soundtracks, grab directly YouTube videos or content without downloading it and on the go. Other features include:
Simple to use! Easily create LIVETAGs and customize your feed with a few swipes!
Share on social (Facebook, Twitter, WhatsApp, Google+, LinkedIn) or restrict your audience
by sending via email, text and messaging apps

Easily collaborate with your friends by adding their own photos or videos of time spent
together in the LIVETAG

LIVETAGs are reachable on any device – from your phone, tablet, or computer.
Cynny runs on the smallest servers in the world based on proprietary technology developed specifically by the company. This differentiates Cynny from other startups liberating it from Amazon Web Services, running its own ecofriendly, high performing infrastructure. The technologically advanced servers are powered by ARM CPU's and are built to develop the cloud of the future.
Please visit http://www.cynny.com or download the app from Google Play or the Apple App Store to experience Cynny.
About Cynny
Cynny (http://www.cynny.com) gives people a simple way to see, organize, and instantly share moments of everyday events or special occasions creating highlights called LIVETAGs. Cynny removes the clutter of social networks and gives people control of what they share with the people who matter most. Cynny was developed and runs on its own infrastructure using ARM technology to make it cost effective to scale, be fast, and extremely reliable. The company was founded and is led by leading experts in cloud technology. Cynny is based in Menlo Park, California with R&D offices in Italy, Romania and Taiwan.