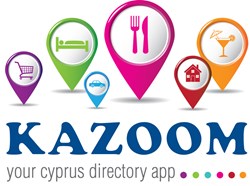 Local services need to find more cost-effective ways to promote their offers and locations. Our introductory listing packages start at only €35 a year, making it completely accessible to all regardless of size and budget.
Limassol, Cyprus (PRWEB) July 24, 2013
Whilst there have been a number of mobile applications launched in Cyprus providing local information, they normally only cover a specific area or cater for a specific category of services, which means that users need to download several apps in order to find all the information they need. Attempting to bridge that gap between disparate sources of information which can be trusted and relied on is Kazoom - an innovative newly launched smartphone application which provides all inclusive information about Cyprus to its users, through a complete Cyprus business directory and in depth guide to all the local services, events and offers.
Cyprus is also a very popular tourist destination and as such Kazoom also helps users find ideas on what to do in Cyprus and places to visit which can also be provided based on their current location. As well as finding nearby restaurants, bars and services, users can even access menus, prices and special offers in a specific area.
Children's activities, sea & mountain attractions but also key services for the business traveler are all available within the app, which is designed to be a complete Cyprus directory, with an integrated social experience. So visitors can start planning their Cyprus holiday activities, even before they arrive through Kazoom. Kazoom simultaneously offers local businesses visibility to a whole new and vibrant customer base.
From the app, users are able to contact a business directly either via a click to call function or email, use the maps functionality to plan their route to the point of interest, view photos, visit their website and also access honest ratings & reviews from other Kazoom users on that specific business.
Despite only just launching, the Kazoom app already features several leading local companies in its directory, a host of exciting special offers and a calendar of events for both families, businesses and those seeking entertainment including bars, pubs, clubs and shows.
The team behind Kazoom is passionate about the app and equally passionate about bringing everything about Cyprus into one easy-to-access mobile app.
Michael Antoniou, Director of Kazoom, says: "In this increasingly mobile-enabled world, our aim with Kazoom is to make lesser known offers, businesses and attractions more accessible through the use of familiar mobile technology and an informative interactive environment. In the current environment, businesses need to find more cost-effective ways to promote their services and locations. With Smartphone usage experiencing exponential growth, it made sense to us to try and find a way to centralise all this information about Cyprus in a mobile application. "
Kazoom is designed to give businesses and individuals a way to correctly promote what they do, but in a very affordable way. Our introductory packages start with a listing at only 35 euros per year, making it completely accessible to all businesses and individuals, regardless of their size and budget."
Kazoom is available free to download both on iOS for iPad and iPhone as well as Android and already shows signs of becoming a very popular app. The key however to the success of the app so far lies in its incredibly smooth user-friendly interface and the fun and interactive user experience.
Antoniou continues: "Kazoom has been designed first and foremost to give users quick and easy access to information that was previously hard to find or had to be sourced from several different places, and the feedback we've had so far has been great. We've also got several new features in development and our aim is to continue to keep upgrading and innovating within our app, to ensure that the user experience remains second to none. We recognize the importance and value of mobile, and in this way we are helping everyone to discover and appreciate all services, offers and experiences in Cyprus."
There are also some launch events taking place to celebrate the arrival of Kazoom, and some of these are taking place in the form of series of beach parties,of which Kazoom is the main sponsor, taking advantage of the beautiful warm Cyprus weather. After the hugely successful first two at popular Blueberry Café on 7th July 2013,and Lighthouse by the Sea on 21st July, the next one will be at Dizzy by the Sea on 4th August, hosted by Choice FM and Corona. There will also be further events taking place throughout the summer.
More information on Kazoom can be found on the official website http://www.kazoomapp.com and users can download the app directly from the App Store and Google Play for free. Users can also connect with the Kazoom team on Facebook and Twitter to keep up to date with launch events and future developments.
About Kazoom:
Kazoom is a unique Cyprus directory app, a mobile guide to everything happening in Cyprus, available on both iOS and Android. Users can download Kazoom for free to access a wealth of information on services, restaurants, hotels, bars, things to do, attractions, special offers and events and more. An innovative and interactive social experience, Kazoom also provides honest reviews and ratings on all products and businesses in its directory.
Download Kazoom now to open the door to a wealth of information and change your Cyprus experience forever! For further information on Kazoom please visit http://www.kazoomapp.com .