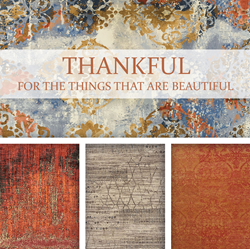 Minneapolis, Minnesota (PRWEB) November 25, 2014
As November comes to a close and the holiday season arrives, Cyrus Artisan Rugs continues to add new rugs and designs to their online and in-store inventories at their Minneapolis showroom. As a leading purveyor of hand knotted luxury carpets in the Midwest, it is no surprise that Cyrus unveiled new rugs in time for the holiday shopping craze. The new featured rug designs are from both Cyrus Artisan Rugs themselves, as well as from renowned handwoven carpet manufacturer, Lapchi.
Cyrus Artisan Rugs unveiled some of their own designs, including the "M-14B" design. Part of the gorgeous Amaluk Collection, the "M-14B" design along with the other new rugs in the same collection, are hand knotted in India from recycled Sari silk. The new rugs showcase vibrant jewel tones and contemporary spins on classic floral motifs. One of the standout rugs from Cyrus' new batch of arrivals includes the Lapchi "Anthemion" transitional rug design. The "Anthemion" rug in the Oak DD855 palette arrives with chic neutral hues and a sophisticated and elegant curvilinear pattern. With a mix of contemporary and classic motifs, this handwoven Lapchi carpet is made from 100 knot premium mountain wool and a soft pile finish with average thickness. Another highlight from the new Lapchi area rug arrivals is the "Thalia" design. The Frosted Green GG390 color palette is perfect for the holiday season of celebration, featuring green and gold hues, while the 100 knot wool and 40% lustrous silk blend creates a gorgeous sheen and brings out the contemporary take on a naturally inspired floral motif.
Each of these handmade and rare rugs are featured on both Cyrus' online store and in their large Minneapolis showroom. Cyrus Artisan Rugs' showroom is over 13,500 square-feet with an inventory of over 3,000 handmade artisan rugs. Design lovers, industry insiders, and residents of the greater Minneapolis area should check out these truly one-of-a-kind carpets to get inspired for their own holiday decorating plans this Thanksgiving and holiday season.
Cyrus Artisan Rugs
5115 American Blvd.
W. Bloomington, MN 55437
Phone: (952) 922-6000
-Contributed by TRIXMEDIA : Creating Possibilities
Branding Firm based in Beverly Hills, California.