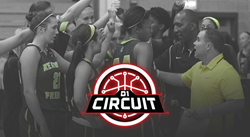 '17 of the 24 McDonald's All-American athletes selected this year were Nike Girls EYBL players.' says D1 Circuit National Editor Alec Kinsky. 'I'm excited to start sharing their stories with our audience'
Minneapolis, Minn. (PRWEB) April 14, 2016
D1 Circuit, the official home of Nike EYBL (Elite Youth Basketball League) coverage for the past three seasons, has announced the addition of Girls EYBL coverage, bringing both Nike-sponsored grassroots basketball leagues under one roof starting in March 2016. D1 Circuit will now be your go-to source for coverage of the entire Nike EYBL family.
With 32 teams split into four regional divisions, Nike Girls EYBL represents some of the nation's most promising high school basketball talent, and the move to the nationally recognized D1 Circuit is predicted to bring increased visibility to one of the top girls' basketball leagues in the country.
"17 of the 24 McDonald's All-American athletes selected this year were Nike Girls EYBL players." says D1 Circuit National Editor Alec Kinsky. "I'm excited to start sharing their stories with our audience through the same exhaustive attention fans of D1 Circuit expect."
Powered by Sport Ngin, visitors to D1Circuit.com will find extensive information and analysis on Girls EYBL including power rankings, league news, team and player pages, stats, standings, schedules, interviews, video highlights and more.
"D1 Circuit has grown to be one of the top websites on our entire platform. In addition to the best coverage in grassroots basketball, they provide teams with valuable resources to help them increase the visibility of their programs and athletes." said Angie Franks, chief marketing officer at Sport Ngin.
The Nike Girls EYBL teams will battle it out at three different stops throughout the spring and summer, with the goal of becoming one of the 24 teams to compete at the Nike Nationals held July 27-30, 2016. Full coverage of these events will available on D1Circuit.com.
Competitions leading up to Nike Nationals will take place April 22-24, 2016 in Hampton, VA and July 10-12, 2016 in Chicago and Nashville.
About D1 Circuit
D1 Circuit is the official media home for Nike grassroots basketball including the EYBL (Elite Youth Basketball League), Jordan Brand Classic, Nike Hoop Summit & Nike Global Challenge. Since 2013, it has provided players, coaches, teams, and fans of the EYBL with in-depth analysis and meaningful exposure through comprehensive stats and standings, feature stories, interviews and more. D1 Circuit is based in Minneapolis, MN, and can be found online at http://www.d1circuit.com and @d1circuit on Twitter.
About Sport Ngin
Helping the world play smarter and live more, Sport Ngin is the leading provider of Sport Life Management web software and mobile applications for youth, amateur, and professional sports. Powering D1 Circuit, plus more than 500,000 sports teams, leagues, clubs, and associations, Sport Ngin features a complete suite of easy-to-use tools that help sports organizations manage, connect, and communicate with a diverse range of stakeholders, including athletes, parents, administrators, coaches, referees, scouts, volunteers, fans, journalists, and sponsors. Founded in 2008, Sport Ngin is based in Minneapolis, Minn. For more information, please visit http://www.sportngin.com; like the company on Facebook at Facebook.com/SportNgin; or follow Sport Ngin on Twitter [email protected]