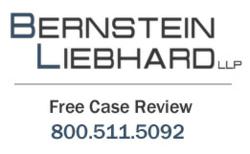 As the growing number of da Vinci surgery lawsuits makes clear, the true risks of robotic surgery still need to be fully evaluated.
New York, New York (PRWEB) July 04, 2013
As da Vinci lawsuit claims alleging injury due to the use of the da Vinci Surgical System continue to move forward in courts throughout the country, Bernstein Liebhard LLP notes that a new study has found that robotic surgery is being increasingly used to treat men with low-grade prostate cancer, even though these types of procedures may not offer them any added benefits. According to the study, which was published in the Journal of the American Medical Association on June 26th, the use of robotic surgery and other advance treatments in men with low-grade prostate cancer rose from 32 percent to 44 percent between 2004 and 2009.*
Low-grade prostate cancer is defined as slow-growing cancer that doesn't pose a threat to a patient's life. According to a report from NPR.com, the new study has raised concerns, as there is little data to indicate that robotic surgery offers additional benefits to patients with this type of prostate cancer, and may even have harmful effects. Robotic procedures are also far more expensive compared to traditional forms of surgery and radiation.**
"As the NPR report points out, many patients are drawn to robotic procedures because of marketing claims promising shorter recoveries and other benefits. However, as the growing number of da Vinci surgery lawsuits makes clear, the true risks of robotic surgery still need to be fully evaluated," says Bernstein Liebhard LLP, a nationwide law firm representing the victims of defective drugs and medical devices. The Firm is currently offering free legal evaluations to individuals who allegedly suffered serious robotic surgery complications in procedures involving the da Vinci Surgical System, including da Vinci prostatectomy.
Da Vinci Surgery Lawsuits
The da Vinci Surgical System was brought to market in 2000 by Intuitive Surgical, Inc., and is the only robotic surgery platform approved in the U.S. for soft tissue procedures. According to a June 14th report from NBC News, the robot was used in more than 400,000 procedures last year, including thousands of men who underwent a da Vinci prostatectomy. The same broadcast also revealed that the U.S. Food & Drug Administration (FDA) has received more than 200 reports of da Vinci patients who suffered burns, cuts and infections since 2007, including 89 that involved patient deaths. The growing number of da Vinci complications has attracted scrutiny from the FDA, and in January it launched a survey of doctors to determine if the increase was related to a problem with the technology. ***
On May 30th, the FDA issued a 483 letter to Intuitive Surgical after an agency inspection of its headquarters revealed that the company had not informed the FDA of a letter it sent to customers in October 2011 regarding a problem with the da Vinci that had the potential to harm patients. According to the FDA letter, Intuitive Surgical had received 134 complaints and filed 82 medical device reports related to "tip cover issues" between January 2010 and December 2011 that allowed electricity to arc, or jump, inside patients during surgery.**** Just weeks prior, on May 8th, Intuitive sent an Urgent Medical Device Notification to its customers after determining that micro-cracks in an instrument used with the da Vinci could result in surgical burns. The company has redesigned the instrument and is now shipping replacements.*****
Intuitive Surgical also acknowledged in an April 19th filing with the U.S. Securities and Exchange Commission that it had been named in 26 da Vinci surgery lawsuits filed on behalf of patients who allegedly suffered serious complications in robotic procedures.****** While Intuitive recently won the nation's first trial involving a da Vinci lawsuit, Reuters reported on May 28th that plaintiffs' attorneys expect hundreds of similar filings in the future. ******* (Estate of Fred E. Taylor v. Intuitive Surgical Inc., 09-2-03136-5, Superior Court, State of Washington, Kitsap County (Port Orchard))
Victims of serious injuries allegedly caused by the da Vinci Surgical System may be entitled to compensation for medical expenses, lost wages, pain and suffering, and more. To learn more about filing a da Vinci surgery lawsuit, please visit Bernstein Liebhard LLP's website. Free, no-obligation legal evaluations can also be arranged by calling 800-511-5092.
*jama.jamanetwork.com/article.aspx?articleid=1700496
**npr.org/blogs/health/2013/06/26/195835806/men-pick-robotic-surgery-for-prostate-cancer-despite-risks
***rockcenter.nbcnews.com/_news/2013/06/14/18958967-robotic-surgery-is-high-tech-tour-de-force-but-is-it-safe
****fda.gov/downloads/AboutFDA/CentersOffices/OfficeofGlobalRegulatoryOperationsandPolicy/ORA/ORAElectronicReadingRoom/UCM358468.pdf
*****.cnbc.com/id/100726886
****** sec.gov/Archives/edgar/data/1035267/000119312513162385/d508282d10q.htm
*******newsandinsight.thomsonreuters.com/Legal/News/2013/05_-_May/Intuitive_Surgical_wins_case_over_robotic_surgery_system/
About Bernstein Liebhard LLP
Bernstein Liebhard LLP is a New York-based law firm exclusively representing injured persons in complex individual and class action lawsuits nationwide since 1993, including those who have been harmed by dangerous drugs, defective medical devices and consumer products. The firm has been named by The National Law Journal to the "Plaintiffs' Hot List," recognizing the top plaintiffs' firms in the country, for the past 10 consecutive years.
Bernstein Liebhard LLP
10 East 40th Street
New York, New York 10016
800-511-5092
ATTORNEY ADVERTISING. © 2013 Bernstein Liebhard LLP. The law firm responsible for this advertisement is Bernstein Liebhard LLP, 10 East 40th Street, New York, New York 10016, 800-511-5092. Prior results do not guarantee or predict a similar outcome with respect to any future matter.
Contact Information:
Felecia L. Stern, Esq.
Bernstein Liebhard LLP
info (at) consumerinjurylawyers (dot) com
http://www.davincisurgery-lawsuit.com/