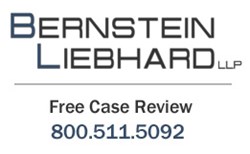 The concerns raised in the Daily Mail report echo allegations made in a growing number of da Vinci surgery lawsuit filings here in the U.S.
New York, New York (PRWEB) November 01, 2013
As da Vinci robot lawsuits (http://www.davincirobotlawsuithelp.com/) continue to mount in courts throughout the U.S., Bernstein Liebhard LLP notes that the safety and efficacy of the da Vinci Surgical System continue to be the subject of concerns. According to a report from the PBS NewsHour, while the use of the da Vinci robot has grown rapidly over the past decade, recent research has questioned whether robotic surgery complications involving the device have been under-reported. At least one other study published in the last year has also found that marketing materials touting robotic surgery on hospital websites may not fully disclose its risks.
"Some of the robotic surgery complications discussed in the PBS NewsHour report detail what we have heard from our own clients. This article serves as yet another reminder that the risks and benefits of robotic surgery still need further evaluation," says Bernstein Liebhard LLP, a nationwide law firm representing the victims of defective drugs and medical devices. The Firm is currently offering free legal evaluations to individuals who allegedly suffered serious injuries, including surgical burns, torn blood vessels, and organ perforations, in procedures involving the da Vinci Surgical System.
Da Vinci Robot Lawsuits
On October 18, 2013, Intuitive Surgical disclosed in a regulatory filing that it had been named in at least 50 U.S. lawsuits filed on behalf of patients who suffered serious, and in some cases, fatal robotic surgery complications in da Vinci procedures. All of the claims allege that defects in the technology and/or issues with the way Intuitive Surgical trains surgeons to use the device led to patients' injuries.**
According to a recent Bloomberg.com report, the U.S. Food & Drug Administration (FDA) earlier this year launched a survey of doctors who use the da Vinci, amid concerns about an increase in the number of robotic surgery complication reports involving the device. Such reports have more than doubled in the first eight months of this year, compared with the same period last year.*** In July, the FDA issued a warning letter to Intuitive Surgical after agency inspectors determined the company hadn't adequately reported device corrections and patient adverse events in some cases.
Victims of robotic surgery complications allegedly caused by the da Vinci Surgical System may be entitled to compensation for medical bills, lost wages, pain and suffering, and other damages. Learn More about da Vinci robot lawsuits at Bernstein Liebhard LLP's website. To arrange for a free case review, please call 800-511-5092.
*pbs.org/newshour/rundown/2013/11/mishaps-and-deaths-caused-by-surgical-robots-going-underreported-to-fda.html. PBS NewsHour, November 1, 2013
**sec.gov/Archives/edgar/data/1035267/000103526713000040/isrg-2013930x10q.htm, Intuitive Surgical SEC Filing, October 18, 2013
***bloomberg.com/news/2013-10-08/robot-surgery-damaging-patients-rises-with-marketing.html, Bloomberg.com, October 8, 2013
About Bernstein Liebhard LLP
Bernstein Liebhard LLP is a New York-based law firm exclusively representing injured persons in complex individual and class action lawsuits nationwide since 1993, including those who have been harmed by dangerous drugs, defective medical devices and consumer products. The firm has been named by The National Law Journal to the "Plaintiffs' Hot List," recognizing the top plaintiffs' firms in the country, for the past 11 consecutive years.
Bernstein Liebhard LLP
10 East 40th Street
New York, New York 10016
800-511-5092
ATTORNEY ADVERTISING. © 2013 Bernstein Liebhard LLP. The law firm responsible for this advertisement is Bernstein Liebhard LLP, 10 East 40th Street, New York, New York 10016, 800-511-5092. Prior results do not guarantee or predict a similar outcome with respect to any future matter.
Contact Information:
Felecia L. Stern, Esq.
Bernstein Liebhard LLP
info (at) consumerinjurylawyers (dot) com
http://www.davincirobotlawsuithelp.com/