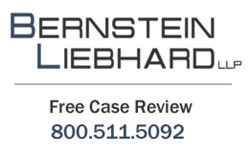 Add a quotabOur Firm continues to receive inquiries from victims of robotic surgery complications that were allegedly caused by the da Vinci Surgical System. We expect that this recall.
New York, New York (PRWEB) July 15, 2013
As da Vinci robot lawsuit claims continue to move forward in courts throughout the country, Bernstein Liebhard LLP notes that Intuitive Surgical, Inc. has announced a Class II recall for certain instruments used with the da Vinci Surgical System. According to a Bloomberg.com report published on July 12th, the recall for the da Vinci Si Vision System Cart, Si Surgeon Side Cart, Instrument Control Box and Dual Camera Controller has been given Class II status by the U.S. Food & Drug Administration (FDA), which indicates the products "may cause temporary or medically reversible adverse health consequence."*
"Our Firm continues to receive inquiries from victims of robotic surgery complications that were allegedly caused by the da Vinci Surgical System. We expect that this recall will only add to the safety concerns that already surround this device," says Bernstein Liebhard LLP, a nationwide law firm representing the victims of defective drugs and medical devices. The Firm is currently offering free legal evaluations to individuals who allegedly suffered serious robotic surgery complications in procedures involving the da Vinci Surgical System.
Da Vinci Robot Lawsuits
Launched in 2000, the da Vinci Surgical System was used in some 400,000 minimally invasive surgeries last year, according to Bloomberg.com. According to an Urgent Device Correction notice Intuitive Surgical sent to its affected customers on June 27th, the da Vinci robot instruments subject to this recall may not have been tested properly at the factory. All of the instruments have been retested in the field, and the company has not received any complaints connected to the products, Bloomberg.com said.
The last few months have been difficult ones for Intuitive Surgical and the da Vinci Surgical System. On May 30th, the FDA issued a 483 letter to the company after an inspection of its headquarters revealed, among other things, that the agency had never been informed of robotic surgery complication reports that caused the company to issue a cautionary letter to its customers in October 2011.** On May 8th, Intuitive Surgical sent an Urgent Medical Device Notification to its customers after determining that micro-cracks in some EndoWrist monopolar scissors used with the da Vinci could cause surgical burns.*** Most recently, Bloomberg.com reported that sales of the da Vinci robot had slowed in the second quarter of 2013, with one analyst blaming the drop-off on hospitals "starting to re-evaluate treatment plans and taking a more cautious approach.****
Intuitive Surgical has been named in at least 26 da Vinci robot lawsuits filed on behalf of patients who allegedly suffered robotic surgery complications in da Vinci procedures. In a regulatory filing submitted to the U.S. Securities and Exchange Commission (SEC) on April 19th, Intuitive Surgical disclosed that it had entered into tolling agreements in some cases to suspend the statute of limitations, in order to give the parties more time to evaluate the claims and determine if any can be resolved out of court.*****
Victims of serious robotic surgery complications, including surgical burns, damaged organs, and torn blood vessels, that were allegedly caused by the da Vinci Surgical System may be entitled to compensation for medical bills, lost wages, and pain and suffering. To learn more about filing a da Vinci robot lawsuit, please visit Bernstein Liebhard LLP's website. Free, no-obligation legal evaluations can also be arranged by calling 800-511-5092.
*bloomberg.com/news/2013-07-12/intuitive-surgical-may-not-have-tested-devices-properly.html
**fda.gov/downloads/AboutFDA/CentersOffices/OfficeofGlobalRegulatoryOperationsandPolicy/ORA/ORAElectronicReadingRoom/UCM358468.pd
***cnbc.com/id/100726886, CNBC, May 10, 2013
****bloomberg.com/news/2013-07-09/intuitive-surgical-declines-on-falling-da-vinci-sales.html
*****sec.gov/Archives/edgar/data/1035267/000119312513162385/d508282d10q.htm
About Bernstein Liebhard LLP
Bernstein Liebhard LLP is a New York-based law firm exclusively representing injured persons in complex individual and class action lawsuits nationwide since 1993, including those who have been harmed by dangerous drugs, defective medical devices and consumer products. The firm has been named by The National Law Journal to the "Plaintiffs' Hot List," recognizing the top plaintiffs' firms in the country, for the past 10 consecutive years.
Bernstein Liebhard LLP
10 East 40th Street
New York, New York 10016
800-511-5092
ATTORNEY ADVERTISING. © 2013 Bernstein Liebhard LLP. The law firm responsible for this advertisement is Bernstein Liebhard LLP, 10 East 40th Street, New York, New York 10016, 800-511-5092. Prior results do not guarantee or predict a similar outcome with respect to any future matter.
Contact Information:
Felecia L. Stern, Esq.
Bernstein Liebhard LLP
info (at) consumerinjurylawyers (dot) com
http://www.davincisurgery-lawsuit.com/