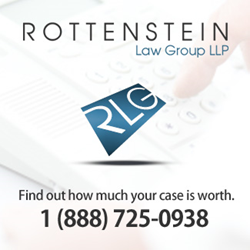 We speak daily with individuals who underwent procedures performed with a da Vinci surgical robot system.
(PRWEB) August 08, 2013
An Aug. 5 CNN report* highlights the ongoing popularity—and heated debate—about the use of the da Vinci surgical robot, the leading robotic surgical system. The Rottenstein Law Group LLP, which maintains the da Vinci Surgical System Lawsuit Center that features information on side effects and lawsuits, offers its perspective based on the conversations its lawyers have had with those who believe they were harmed by the device.
Some in the CNN report argue that the da Vinci's four arms provide surgeons with improved ability to perform safe and efficient surgeries, but others in the report argue that there is no benefit to the patient. Johns Hopkins Senior Surgeon Dr. Martin Makary said in the report that the surgeon cannot feel the tissue when using the da Vinci and so he or she could inadvertently cause injury to the patient.
"We speak daily with individuals who underwent procedures performed with a da Vinci surgical robot system," said Rochelle Rottenstein, principal of the Rottenstein Law Group LLP. "They allege adverse side effects such as internal bleeding and the laceration and/or burning of internal organs. Sometimes, even though the technology is there, it isn't necessarily the ideal solution. Sometimes new technology brings new problems."
da Vinci maker Intuitive Surgical recently initiated a class-2 recall of about 30 da Vinci units because of potential safety compliance issues, according to a July 12 Bloomberg story.** According to CNN, the da Vinci has performed more than 1.5 million operations worldwide since its introduction in the late 1990s.
The Rottenstein Law Group LLP encourages those who believe their da Vinci robot surgery harmed them to visit its FAQ page at http://www.roboticsurgerylawsuitcenter.com/frequently-asked-da-vinci-surgical-system-questions/ to quickly get their questions answered and to contact an attorney.
*cnn.com/2013/08/02/tech/da-vinci-robot-surgery
**bloomberg.com/news/2013-07-12/intuitive-surgical-may-not-have-tested-devices-properly.html
About THE ROTTENSTEIN LAW GROUP LLP
The Rottenstein Law Group LLP is a New York-based firm that represents clients nationwide in mass tort actions. The firm was founded by Rochelle Rottenstein, who has more than two decades of experience as a lawyer, to represent clients hurt by defective medical devices and medications. (Attorney advertising. Prior results do not guarantee a similar outcome.)
Contact:
The Rottenstein Law Group LLP
Rochelle Rottenstein, Esq.
321 W. 44th Street
# 804
New York NY 10036
(212) 933-9500 (office phone)
(212) 933-9980 (facsimile)
rochelle (at) rotlaw (dot) com
Intuitive Surgical asserts that it is fully committed to superior training opportunities for surgeons and surgical teams in the use of its products, but notes that it does not participate in determining when a surgeon is adequately prepared to operate using the da Vinci Surgical System.
###