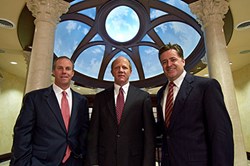 St. Louis, MO (PRWEB) August 27, 2013
The Onder Law, attorneys representing clients nationwide in medical device, pharmaceutical and other products liability cases resulting in severe injury or death, have compiled a list of tips for persons who suffered from complications occurring during a surgery in which the da Vinci surgical robot was used. The da Vinci* surgical robot, manufactured by Intuitive Surgical, Inc., has been linked to a number of severe surgical complications, some resulting in the patient's death, and was the focus of an in-depth investigative report by CNBC entitled The Da Vinci Debate (cnbc.com/id/100653176, 4/18/2013 and cnbc.com/id/100726886, 5/10/2013). The attorneys handling da Vinci surgical complications cases at The Onder Law Firm have consulted with hundreds of persons who had a robot-assisted surgery with the Intuitive Surgical, Inc. da Vinci surgical robot and are offering information they believe to be vital to those who are considering whether or not to pursue a financial claim against the manufacturer.
1. Most da Vinci surgical complications claims involve hysterectomy or prostate surgery procedures. Persons who had a different type of surgery that used the da Vinci surgical robot should still consult with an attorney, but the likelihood of having a case that will be accepted is best for hysterectomy or prostate surgery complications.
2. Hysterectomy and prostate surgery complications cases may not be medical malpractice cases. According to court documents**, most of the da Vinci lawsuits filed to date allege a defect with components used in the da Vinci surgery robot, although some allege that the surgeons performing the surgery were inadequately trained; however, these claims are also against the maker of the da Vinci surgical robot.
3. Don't wait before speaking with an attorney. Time will be a factor; both from the date the surgery occurred as well as the date which those injured file a claim, in determining when their settlement may take place. Waiting before contacting a da Vinci surgery complications attorney can only diminish the chance of an early settlement, and possibly even result in ineligibility in filing a da Vinci lawsuit.
4. Gather as many medical records relating to the surgery as possible before contacting an attorney, but don't let a lack of medical records delay an attorney consultation. By having medical records available or being aware of most of the specifics regarding the surgery, the da Vinci surgery complication attorney consultation will be more productive and the attorney will be able to provide more definitive answers.
5. Consider the choice of an attorney carefully. All law firms handling da Vinci surgical complications cases will provide a free consultation and handle the case on a contingency basis, meaning there will be no out of pocket expenses for the client. But the way the cases are handled, resources of the law firm, experience the attorneys have taking on multi-billion dollar corporate giants and the percentage the firm will take, as well as the time it takes to settle a claim, will all differ. Many law firms refer complex medical and pharmaceutical cases to other law firm than handle those cases themselves.
The information above is not formal legal advice. Always seek the counsel of a qualified attorney before making a decision in any legal matter.
The Onder Law Firm is currently investigating claims of complications, injury and death by patients after they or family member underwent a robot-assisted surgery using the da Vinci Surgical System. Those affected may receive a no-cost, no-obligation consultation with an actual attorney by visiting the firm's Da Vinci Robot Surgery Injury Lawsuit website. The Onder Law Firm welcomes da Vinci surgery lawsuit inquiries from law firms in regards to handling them or working as co-counsel.
About The Onder Law Firm
Onder, Shelton, O'Leary & Peterson, LLC is a St. Louis based personal injury law firm handling serious injury and death claims across the country. Its mission is the pursuit of justice, no matter how complex the case or strenuous the effort. The Onder Law Firm has represented thousands of Americans in lawsuits against multinational conglomerates from products liability for manufacture of defective or dangerous products to deceptive advertising practices. Other firms throughout the nation often seek its experience and expertise on complex litigation. The firm's attorneys are currently serving in leadership roles in national litigation involving products liability litigation for Yaz/Yasmin, Pradaxa and Lexapro. The Onder Law Firm offers information pertaining to da Vinci Surgical System injury at http://www.davincirobotsurgeryinjurylawsuit.com.
da Vinci is a registered trademark of Intuitive Surgical, Inc. The Onder Law Firm is not affiliated with Intuitive Surgical, Inc. in any way.
** Superior Court of Washington, No. 09-2-03136-5