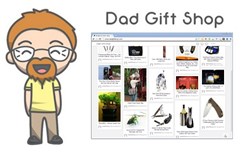 San Francisco, CA (PRWEB) February 03, 2014
Finding a gift for a dad who has seemingly everything will become easier from the 20th February 2014, when the brand new site http://www.dadgiftshop.com will launch, bringing a whole host of exciting dad-friendly gadgets, gifts and consumables to the American public.
The website has been developed to assist people across the United States in helping to find a range of unique gift ideas expressly for the notoriously difficult to buy for dad.
A spokesperson for http://www.dadgiftshop.com revealed:
"The site has been designed to help people come up with a wide range of unique gift ideas that are perfect for dads across the length and breadth of America.
"Whether it is a gift for a first time father, a father's day gift, a birthday present or something special for Christmas, http://www.dadgiftshop.com will stock a range of items that think 'outside the box' when it comes to buying dad a gift.
"There's no need to buy him aftershave or socks anymore, the website will stock a wide range of innovative products, with plenty of photographs as well as accurate yet friendly and frequently funny product descriptions.
"Our aim is to take the hassle out of buying a present for dad and to offer all Americans the chance to buy something special, unique and hopefully useful for the special dad in their lives."
The site is packed with some innovative features that will help to clearly identify itself in the competitive gift market. Product descriptions on the site, for example, are not only accurate and informative, but written in a friendly, jovial manner, which will hopefully encourage people to browse through the extensive range of items on offer.
In addition, the site boasts a fantastic bespoke search engine facility, which will be able to recommend a list of potential presents depending on the 'type' of dad that you have.
So for example, if you have a dad who is interested in business, then a search for "business dad" will bring up a list of items the website stocks which would be ideally suited to a father interested in this aspect.
The search engine has been optimised to search for a large number of different interests for dad including gadgets, outdoors, sports, new father, beer, wine, nerd, fix it, survival expert, toys, sci-fi and the cool dad.
In addition to recommending gifts for specific types of 'dad', the site will also be able to be searched based on budget preferences, meaning that users do not have to sift through gifts that are outside of their budget range when looking for a gift to buy.
"The aim of the site is that anybody can use it to find a gift for their dad quickly, within their budget and without having to end up buying the same tired old gifts that fathers tend to end up with on father's day, birthdays or Christmas," stated a spokesman for the site.
"At http://www.dadgiftshop.com, we hope to make buying an interesting, innovative and unusual gift for dad will not only make his day, but enhance your shopping experience by making it easier than ever to find potential items that you would normally not even consider giving as a gift, but which dads across America would love to receive.
Some of the more unusual items which will be available on 20th February this year on the site include an interactive R2-D2 Astromech Droid, a Diaper Dude Diaper Bag and a Bear Grylls Ultimate Survival Pack.
With an original concept dating back several years, http://www.dadgiftshop.com was initially created in 2013, in readiness for a major launch in February 2014. Their aim is to provide American users with a wide range of high quality, unusual, entertaining and useful gift items ideal for dad.