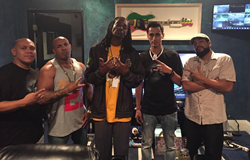 "I knew this was the life for me in 2004, when I signed with universal France and I began seeing my work succeed and progress."
Salt Lake City, Utah (PRWEB) November 23, 2014
Ask K2Rhym what brought him to the States and he'll tell you it was for "The opportunities to work with well known U.S. rap artists, among other benefits such as creating a bigger fan base and promoting sales in other countries." This is exactly what's happened with the help of his executive management team at DA Entertainment, LLC. Starting with the newly produced single 'Immortal,' K2Rhym is working on deals with other popular artists, upcoming feature films and is set to release a music video next month. Though he has millions of fans in his home country and around the globe, the latest single is sure to find new fans with the song and music video both featuring Snoop Dogg.
DA Entertainment is headed up by David Orozco, Ayad Gadalla, Keli Mornay, Renata LeFleau and E-Swift. With decades of experience in the music industry, DA Entertainment knew the opportunity that existed for K2Rhym was a global one. After working out the details to get K2Rhym stateside, the entertainment group put together their first deal with rap legend and favorite, Snoop Dogg. Collaborating on the smooth yet powerful multinational track meant pulling in a broad base of talent, traveling to Utah, California, Las Vegas and mapping out the promotional aspects of of the song's debut. The production of 'Immortal' just wrapped up on November 21st and will also be the title of the album to be released next year. 'Immortal' will be the focus of a music video set to launch December 2014. Though there is a lot of work to be done, the team has no intention of slowing down.
"We've been approached by an associate in the industry with the idea to contribute to Furious 7 and have decided to focus on that next. We just finished the single and hope we aren't too late, but we'd like to see if there is an opportunity to collaborate on the film's soundtrack," says CEO and DA Entertainment co-founder Orozco. K2Rhym, like many of his counterparts in the music business, has a love of the Fast and Furious movies and the cars they feature. K2Rhym can be seen driving one of his favorites, a Lamborghini, in the music video 'How We Ride.'
Fast cars and music weren't always in the picture for this self made artist. At fifteen, K2Rhym set out on his own and moved to France, pursuing a career in sports. Though his talent in a variety of arenas have afforded him other opportunities, his passion for music and love of artists like Dr Dre, Tupac and Notorious B.I.G led him to his first deal with EMI, France in 2004. It's been a decade since then and K2Rhym has compiled a portfolio of hits, music videos, endorsements and millions of fans. Over the next couple of years, the focus will be on exposure in the states, starting with Arab Americans that will enjoy hearing the artists tracks that feature the language of the Arab world.
With DA Entertainment lining up the deals and K2Rhym working diligently on his career around the globe, the stage is set for a multitude of projects that will continue to break through social barriers and enable listeners from Europe, Africa, the US and other countries to partake of the dynamic rap recordings generated by K2Rhym and his team at DA Entertainment. The release will be available on iTunes as well as the artists site and will bring K2Rhym and DA Entertainment one step closer to becoming 'Immortal' in the music industry.