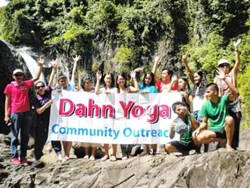 Diane says Dahn Yoga 'helps me to keep a good perspective on things. It helps me to be calm and to focus my energy in a positive way.' This hope and positivity is what she teaches others.
Mesa, AZ (PRWEB) October 09, 2013
Dahn Yoga Foundation was created to in 2006 to make Dahn Yoga's benefits available to more people, regardless of age, income or physical ability. Dahn Yoga is based on a holistic approach to health that includes healthy body, healthy mind and healthy spirit in a healthy community. So, we passionately believe that what we do to help improve the health of individuals positively impacts the community in which the person lives.
Dahn Yoga Foundation will mark its seventh anniversary by celebrating the people who bring the Foundation's mission to life by serving their communities. The Foundation will introduce a new series celebrating people who make difference in their community. The "Doing Good Through Yoga" Series will start with a very special place and its uniquely spiritual people: Santa Fe, New Mexico.
Celebrating Santa Fe
At more than 400 years old, the capital of New Mexico is the oldest capital city in the United States, but that is not the only thing that sets it apart. The cultural richness, landscape and climate have long drawn artists, writers and many creative types. But it has also fostered a unique and harmonious way of living. Dahn Yoga Foundation celebrates the volunteers from this city who are making what they have learned in yoga classes a part of their Santa Fe lives.
Stephanie Gonzales
Stephanie Gonzales is a former Secretary of State of New Mexico who is president and member of the Board of Directors of Kitchen Angels, a Santa Fe non profit where volunteers provide free, nutritious meals for their homebound neighbors with life challenging conditions. Stephanie brings her spirituality and Dahn Yoga principles to her interaction with volunteers and the people they serve. Stephanie also teaches a remarkable meditation and stress reduction class at a state agency, Workforce Solutions. This agency helps retired individuals who find themselves unexpectedly returning to the workforce. Stephanie's classes have helped them see how "deep breathing and stretching could help their mindset" when approaching the daunting prospect of a job interview. Stephanie said that she loves doing for others and her work does not seem out of the ordinary in this extraordinary city.
Diane Cotron
Diane Catron is another non-stop dynamo in her community. A retired high school science teacher who continues to work with the Santa Fe Science initiative to help teachers bring hands on science activities to elementary schools. She also works in the food pantry program her church. She has activated her Dahn Yoga practice with special focus on the Brain Education programs. She has taught Brain Education for children in a Summer Program with the Boys & Girls Club, and currently teaches a Brain Education program for Successful aging. Diane says Dahn Yoga "helps me to keep a good perspective on things. It helps me to be calm and to focus my energy in a positive way." This hope and positivity is what she teaches others.
These Santa Feans make doing good look easy, despite the extra time and effort. Dahn Yoga Foundation is happy to celebrate them, these individuals who who serve their communities with a holistic sense of passion.
About the Dahn Yoga Foundation:
For more than 15 years, community-based Dahn Yoga classes have been made available free of charge or at substantially reduced rates in the US. The Dahn Yoga Foundation, a 501(c)(3) tax-exempt charity, was founded in 2006 to organize and expand the scope of these outreach classes. The Foundation supports community yoga and meditation classes which are offered at various locations around the country, including public parks, senior centers, schools, churches and community centers. In addition to yoga and meditation classes, Dahn Yoga Foundation supports community service projects, helping practitioners breathe new life into Dahn Yoga ideals by putting them into practice.