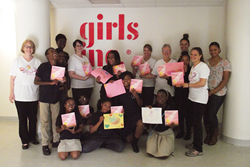 Volunteer Deborah Ferguson says 'it warms our hearts to know that we planted a seed of hope in each of their hearts.'
Washington, DC (PRWEB) October 15, 2014
Dahn Yoga Foundation volunteers know that yoga involves much more than stretching the body, it's also about stretching the mind, the spirit and one's sense of community. For those Dahn Yoga practitioners who have completed their training as Dahn Masters, community involvement is an essential part of their practice. Some Dahn Master volunteers in the Washington, D.C. area recently presented a very rewarding program for the benefit of students involved in Girls, Inc. DC.
The Bird of the Soul program is based on the philosophy of the touching book, "Bird of the Soul." Dahn Yoga Foundation has been involved in making this book available to community groups, through a nationwide book donation drive. People of all ages are benefiting from the book's inspiring message, many of whom also try the book's recommended meditations.
On Thursday, October 2, six volunteers brought the Bird of the Soul program to 39 young ladies and six volunteer staff members, along with donated copies of the book. They did stretching, plate balancing exercises, read the book in small groups, and meditated collectively. After the meditation they broke into small groups where the girls did an exercise from the book, drawing and coloring their own Soul Bird and sharing their experiences with their peers.
The Dahn Master volunteers left them with the message that no matter their circumstances, as long as they have their Soul Bird they are never alone. Volunteer Deborah Ferguson says "it warms our hearts to know that we planted a seed of hope in each of their hearts..." The Dahn Master volunteers plan to provide additional programs to this group in the future and encourage others to reach out with similar programs in support of Girls Inc. affiliates around the country.
Girls Inc. provides more than 138,000 girls across the U.S. and Canada with life-changing experiences and real solutions to the unique challenges girls face. Their mission is to inspire all girls to be strong, smart, and bold as they navigate gender, economic, and social barriers. Girls Inc. DC is located on the Howard University campus and draws sixth, seventh, and eighth-grade students from the local charter school, the Howard University Middle School for Math & Science, as an enrichment program.
About Dahn Yoga Foundation:
For more than 15 years, community-based Dahn Yoga classes have been made available free of charge or at substantially reduced rates in the US. Since 2006, these outreach classes have been organized under the Dahn Yoga Foundation, a 501(c)(3) tax-exempt charity, and are offered at various locations around the country, including public parks, senior centers, schools and community centers. For more information on the Bird of the Soul Book Drive, visit http://www.dahnyogafoundation.org/bird-soul-book-drive/.