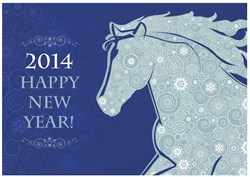 Now is the time to set goals for the New Year of the Horse and make them come true!
Sedona, Arizona (PRWEB) January 24, 2014
The annual Lunar New Year celebration returns to Sedona. The local festivities for this Asian traditional holiday are just one of the many offerings of Sedona Meditation Center, a special project of the non-profit Dahn Yoga Foundation. On Saturday, January 25th, Sedona residents and visitors are invited to join in the event heralding the coming of the Year of the Blue Horse. The public event is offered at no charge and will be celebrated from 11am to 3pm at 340 Jordan Road in Uptown Sedona.
As in years past, Sedona Meditation Center will offer a generous and varied Asian buffet. Lunch is served between 11:30 and 1:00pm, punctuated by a noon demonstration by Sedona's Rhythm, a dynamic, synchronized drum corps. Settle in for a Korean film presented between 1pm and 3pm, or learn what's in the cards for the future with traditional Korean astrology and personalized calligraphy drawing.
Now is the time to set goals for the New Year of the Horse and make them come true! Fashioned after the Lunar New Year in Korea, the event will focus on placing wishes, hopes and plans on a Wishing Tree at the Center which will be displayed for 6 days, culminating in a special New Year Full Moon Ceremony, 6pm Friday, January 31st. In Korea, on New Year's Day, or Seol-Nal, everybody wears their new clothes, starts the day honoring their ancestors, and shares food and traditional games throughout the day. It is such an important time, that each person gains a year in age at the Lunar New Year, not on their birth date.
The fourth annual Lunar New Year Festival will be co-hosted by the Sedona Korean American Association, with support from the Los Angeles office of the Consulate General of the Republic of Korea.
The free public event will take place from 11am to 3pm at the Sedona Mediation Center at 340 Jordan Road in Uptown Sedona. For more information call 928 282-3600.
ABOUT SEDONA MEDITATION CENTER
A special project of the Dahn Yoga Foundation, Sedona Meditation Center's mission is to empower individuals and promote health in the community through yoga, meditation and many other mind body practices. Inspired by the teachings of Ilchi Lee, the 501(c)(3) non-profit organization offers community services, group healing sessions, and mind-body practices from diverse cultures.