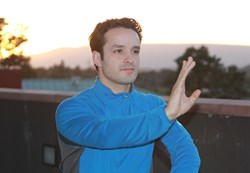 Since squats engage the core they also improve back strength, balance, and overall circulation.
Gilbert, AZ (PRWEB) February 13, 2014
Dahn Yoga Life, a community newsletter, offers monthly yoga tips and community news for practitioners of Dahn Yoga and other forms of yoga. As its yoga tip for the February 2014 issue, interviews Dahn Yoga Regional Manager and master instructor, Michael Munson about the benefits that squat exercises offer yoga practitioners.
Munson, who is based in Cambridge, MA, shares how adding squats to a yoga routine can open and strengthen the hips for greater overall health. Dahn Yoga is a mind-body practice that combines the ancient wisdom of Ki energy training with the teachings of Ilchi Lee to maximize energy. Recent research seems to be endorsing the possible benefits from ancient healing arts and meditation in creating a balanced body and good health.
The Dahn Yoga Life article,"You Can Do It! Squat Exercises offer strength, flexibility, and balance" explains the connection between hip health and the body. Munson offers insight on the energy flow between the first and fourth Chakras of the body as well as the extreme importance of the health of our hips for both body and mind.
In the article Munson states, "Since squats engage the core they also improve back strength, balance, and overall circulation. He adds, "...doing squats also increases flexibility. It is very important to strike a balance between the dynamics of strength and flexibility."
Those who wish to learn more about Dahn Yoga practice and how to Change Your Energy are encouraged to visit the website, which also includes a treasure of archived editions of Dahn Yoga Life filled with tips from months past.
About Dahn Yoga:
Dahn Yoga exercise is a dynamic mind-body practice originating in Korea. A national leader in health and wellness, Dahn Yoga combines stretching, flowing movement, deep breathing and meditation in a simple and easy to learn format focused on the development of the body's core strength as the basis of physical, mental, and spiritual health. Dahn Yoga includes a unique emphasis on the brain as the determiner of health and wellbeing. Thus, classes may include brain exercises to challenge and sharpen the mind and help practitioners develop greater awareness and sensitivity to the well-being of their bodies.