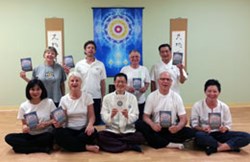 Manager Shiwoo Yang's dream is to create a community space connecting 1000 locals with the Escondido center.
Gilbert, AZ (PRWEB) August 29, 2013
Dahn Yoga & Health Centers, Inc., a national leader in health and wellness, spotlights the community oriented Dahn Yoga Center of Escondido, California in the August 2013 issue of their newsletter, "Dahn Yoga Life".
This month's issue tells how Center Manager, Shiwoo Yang became inspired toward greater community outreach after viewing the recently released film, "Change," by Dahn Yoga founder, Ilchi Lee. The feature article, "Center of the Month: Escondido, California" focuses on how Yang's enthusiasm has spread to members who have joined together to share Dahn Yoga practice with friends, family and community. Meditation sessions, classes at senior centers, and new outreach activities are in progress, and more is planned for the Escondido community.
The article also includes comments from a few of the Center's Dahn Yoga practitioners who have helped spread the word about Dahn Yoga benefits to their multicultural communities, and shares the personal stories of their new found health and growth. Read more about this inspiring group and the community outreach they have developed in this month's issue.
The monthly publication, "Dahn Yoga Life" offers a broad overview of topics of interest for Dahn Yoga practitioners and others interested in learning more about Dahn Yoga, as well as information about current events in the Dahn Yoga community throughout the world.
About Dahn Yoga;
A national leader in health and wellness, Dahn Yoga is a dynamic mind-body practice originating in Korea that combines stretching, flowing movement, deep breathing exercises and meditation in a simple and easy to learn format that focuses on the development of the body's core strength as the basis of physical, mental, and spiritual health. Dahn Yoga includes a unique emphasis on the brain as the determiner of health and wellbeing and classes may include brain exercises that challenge and sharpen the mind and help practitioners develop greater awareness and sensitivity to the well-being of their bodies.