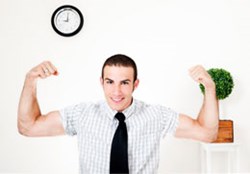 Dahn Yoga teaches you to focus on your body and sense your energy. It improves your power of concentration to be aware of your life as it happens and what you're thinking and feeling at all times.
Gilbert, AZ (PRWEB) August 26, 2013
Dahn Yoga & Health Centers, Inc., a national leader in health and wellness, offers positive health tips in the August 2013 issue of the newsletter, Dahn Yoga Life. With simple exercises to help change your energy, the article, "One Minute to Change" helps practitioners stay healthy in both body and mind.
Dahn Yoga is a mind-body practice that combines the ancient wisdom of Ki energy training with modern techniques to maximize the body's energy. Dahn Yoga benefits are many and interest is building, as recent medical research seems to be endorsing the possible benefits from ancient healing arts and meditation in creating a balanced body and good health.
This month's article explains that without being mindful, negative thoughts and emotions can affect the quality of your experiences. With tips on how to use your body to release negative emotions and replace them with positive emotions, Dahn Yoga Life offers up six easy one-minute exercises that can quickly change things for the better.
The article states, "…use your body to make a quick change. If you move your body vigorously for even 1 minute, you'll generate heat and circulation that will release negative emotions and replace them with positive emotions."
Those who want to learn more about Dahn Yoga practice are encouraged to visit the website, which also includes a treasure of archived editions of Dahn Yoga Life from months past.
About Dahn Yoga:
Dahn Yoga is a dynamic mind-body practice originating in Korea. A national leader in health and wellness, Dahn Yoga exercises combine stretching, flowing movement, deep breathing exercises and meditation in a simple and easy to learn format focused on the development of the body's core strength as the basis of physical, mental, and spiritual health. Dahn Yoga includes a unique emphasis on the brain as the determiner of health and well-being. Thus, classes may include brain exercises to challenge and sharpen the mind and help practitioners develop greater awareness and sensitivity to the well-being of their bodies.