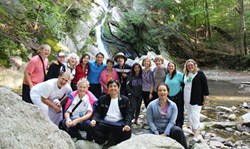 Stepping outside of your comfort zone is how you experience life to its fullest. Brain Management Training offers hope for improvement for all conditions.
Gilbert, AZ (PRWEB) September 27, 2013
Dahn Yoga & Health Centers, Inc., a national leader in health and wellness, spotlights the Brain Management Training Workshop in their newsletter, Dahn Yoga Life. The September 2013 issue shares interviews and insights from this transformative experience.
The article, "6 Days and 5 Nights of Transformation: Brain Management Training and What it Can Do for Your Growth and Energy Management," offers an informative overview of the course activities. Individual success stories reveal the Dahn Yoga benefits enjoyed by people of all ages and levels of experience who attended the most recent session.
With insight into daily activities that take place during the Brain Management Training course, the article describes how this workshop offers participants "hands on" learning of key principles of Dahn Yoga exercise as they develop core strength and learn energy management. The article states, "With BMT, you need plenty of time to learn concrete methods for managing yourself—physically, emotionally, and spiritually (information)—as you focus completely on yourself."
Read more about this exciting workshop in the monthly publication, Dahn Yoga Life. The newsletter offers a broad overview of topics of interest for Dahn Yoga practitioners and those interested in learning about the practice as well as inspiring Dahn Yoga community news.
About Dahn Yoga:
A national leader in health and wellness, Dahn Yoga is a dynamic mind-body practice originating in Korea that combines stretching, flowing movement, deep breathing exercises and meditation in a simple and easy to learn format that focuses on the development of the body's core strength as the basis of physical, mental, and spiritual health. Dahn Yoga practice includes a unique emphasis on the brain as the determiner of health and wellbeing and classes may include brain exercises that challenge and sharpen the mind and help practitioners develop greater awareness and sensitivity to the well-being of their bodies.