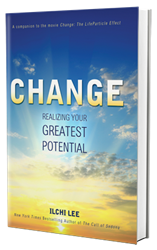 Dahn Yoga offers many tools and support for those seeking change in their lives.
Gilbert, AZ (PRWEB) August 27, 2013
Dahn Yoga & Health Centers, Inc., a national leader in health and wellness, celebrates "Change" in their monthly newsletter, Dahn Yoga Life. With the documentary film tour, "CHANGE: The LifeParticle Effect," draws to a close, Dahn Yoga offers many tools and support for those seeking change in their lives. The nationwide tour consisted of local premieres the film viewing, a talk by Executive Producer Ilchi Lee, followed by a DVD and book signing."
The CHANGE film tour covered the Northeast, then the South and West coast and ended in Hawaii.The Dahn Yoga community can keep up with all of the exciting latest news in the August 2013 issue of Dahn Yoga Life.
Jumping off of the documentary tour, Dahn Yoga founder and New Your Times Bestseller Author, Ilchi Lee will release a new book in September, "Change, Realizing Your Greatest Potential." Offering practical suggestions and energy principles for manifesting change, the book is a "must read" companion to the movie.
For those interested in online tools for realizing change in their lives, Dahn Yoga is partnering with the newly revamped website, http://www.ChangeYourEnergy.com is the ultimate in ongoing support toward changing lives, and the world for the better. Visitors can find new products, wellness articles and recipes, and enter the Change Your Energy Video Challenge and sign up for the free newsletter for news and information updates.
About Dahn Yoga:
Dahn Yoga is a dynamic mind-body practice originating in Korea. A national leader in health and wellness, combines stretching, flowing movement, deep breathing exercises and meditation in a simple and easy to learn format focused on the development of the body's core strength as the basis of physical, mental, and spiritual health. With a unique emphasis on the brain as the determiner of health and wellbeing, classes may include brain exercises to challenge and sharpen the mind and help practitioners develop greater awareness and sensitivity to the energy and well-being of their bodies and minds.