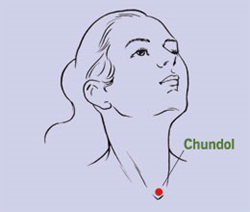 With vigorous energy purification in your Chundol, your body and mind open and you develop great understanding about life.
Gilbert, AZ (PRWEB) August 16, 2013
Dahn Yoga & Health Centers, Inc., a national leader in health and wellness, continues to offer greater understanding of the body's 365 meridian points with their monthly series in the August 2013 issue of Dahn Yoga Life. With illuminating information about the meridian point, Chundol, this Dahn Yoga Health series uses graphics, photography and easy to understand text to describe the location and function of this important meridian point.
Insight into the Sundo tradition of Korea is also offered, where the Chundol is called "the Soul's Gate, the place of transition from the human bestial nature to the divine nature." The rich, significant meaning and implications this contains for governing our own lives is discussed as well.
The article states, "When your Chundol is blocked, you have poor metabolism, energy, your breath and blood do not circulate all the way to the tips of your fingers and toes, and your energy stagnates. You have trouble controlling your emotions, feel anxious about acting on what you want, and express yourself awkwardly. Unpurified energy expressed when your Chundol is blocked causes you to hurt others and alienate yourself."
As the article explains what factors contribute to blockage in the Chundol, it is clear to see the connection between the blockage, caused by "the disharmony between what you want and what you actually do," and how this affects your effectiveness in life.
Dahn Yoga Life offers three ways for activating this important meridian point and Dahn Yoga benefits. Most exciting is the information offered about the understanding, insight, wisdom, and purified energy that results when one unblocks the Chundol. See the article "Meridian Point: Chundol - Your Energy Purifier" to discover more.
For those interested in learning more about meridian points, back issues of Dahn Yoga Life that include previous articles in the series are available online. Visitors to DahnYoga.com can sign up for the free newsletter as well as for regular news and information on Dahn Yoga and the Dahn Yoga community as this monthly series continues to explore meridians and related topics.
About Dahn Yoga:
A national leader in health and wellness, Dahn Yoga is a dynamic mind-body practice originating in Korea that combines stretching, flowing movement, deep breathing exercises and meditation in a simple and easy to learn format that focuses on the development of the body's core strength as the basis of physical, mental, and spiritual health. Dahn Yoga practice includes a unique emphasis on the brain as the determiner of health and wellbeing and classes may include brain exercises that challenge and sharpen the mind and help practitioners develop greater awareness and sensitivity to the well-being of their bodies.