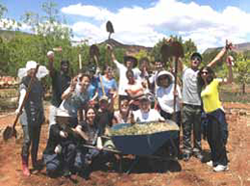 Everything we did was so amazing and these beautiful memories will forever be with me. . . . I feel much more confident and have faith in myself.
Gilbert, AZ (PRWEB) August 29, 2013
Dahn Yoga & Health Centers, Inc., a national leader in health and wellness, spotlights the New Earth Citizen Leadership Course in their newsletter, Dahn Yoga Life. The August 2013 issue shares details from this unique learning experience that began earlier this summer at Sedona Mago Retreat in Arizona and is offered through September 9, 2013.
The article, "New Earth Citizen Leadership Course," offers an overview of the course activities and Dahn Yoga benefits that people from around the world come to participate in. The article states, "The course has a daily schedule of programs to practice Dahn Yoga, study Tao Principles of growth, and most importantly, apply their teachings to your everyday life."
The non-profit organization, the New Millennium Peace Foundation, designed the course to help people who wish to change negative habits and behaviors. Offered by Dahn Yoga & Health Centers, Inc. in connection with New Millennium Peace Foundation, the course runs a minimum of 21 days to help participants solidify philosophies and practice toward enduring change for the better.
The feature story describes daily activities during the course, a time away for hands-on learning of key principles of Dahn Yoga exercises and more. With an impressive list of benefits, participants describe an enticing array of activities that also includes farming, gardening, and working the horse barn.
Read more about this life-changing workshop in the monthly publication, Dahn Yoga Life. The newsletter offers a broad overview of topics of interest for Dahn Yoga practitioners and those interested in learning about the practice as well as to explore ways to Change Your Energy.
About Dahn Yoga:
A national leader in health and wellness, Dahn Yoga is a dynamic mind-body practice originating in Korea that combines stretching, flowing movement, deep breathing exercises and meditation in a simple and easy to learn format that focuses on the development of the body's core strength as the basis of physical, mental, and spiritual health. Dahn Yoga practice includes a unique emphasis on the brain as the determiner of health and well-being and classes may include brain exercises that challenge and sharpen the mind and help practitioners develop greater awareness and sensitivity to the well-being of their bodies.