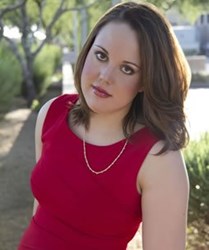 (PRWEB) December 29, 2013
On December 26th 2013 at 9 pm ET, people from all over the world tuned in to listen to the last live broadcast of the Monthly Enhancement Program with Trivedi Master™ Dahryn Trivedi. Not only was this the last call in this series for 2013 but it was also the last call Dahryn Trivedi would lead as part of this program Participants heard discourse from Mahendra Trivedi who explained why Dahryn was having a break from the program . He shared with the audience that Dahryn was taking time out, under Divine guidance, so that her own personal connection to the Divine may deepen and her gifts develop to a heightened level. Participants on the call heard how Dahryn had always had complete dedication and devotion to her Divine and how unquestioningly she was following this request. Participants heard how Dahryn's growth over the coming year would allow her to develop her true potential as a Trivedi Master™ and such return with greater wisdom and enhanced abilities in around a year's time.
Mahendra Trivedi, Dahryn's husband talked of his respect for her and of her unique quality in connecting purely to the Divine Feminine Energy. He talked of her purity, compassion and complete devotion to the God of her Understanding and spoke of her great purpose and potential to help the world in later years. Alice Branton also spoke of her respect and love for Dahryn Trivedi before the public were asked to share their personal feelings and experiences of Dahryn Trivedi and her Energy Transmissions.
People responded with a showering of love and affection for this incredible lady who radiates such feminine divine presence, love, compassion, purity, innocence and devotion to all she meets. Participants described how they had seen her transform from a shy girl into the wise and beautiful woman she is now. People from all over the world shared testimony about the magnitude of love, compassion and intensity they felt through her Energy Transmissions and shared their gratitude for her role in helping their own lives to transform. In addition many acknowledged the reasons for her leaving the program and sincerely wished her well with her journey ahead. All looked forward to the time she would return and to see her flourish after this period of growth.
Dahryn Trivedi was born to live a spiritual life, marry a Spiritual Master and become one herself. Her strong will to lead a perfect spiritual life and vision from a young age that she was to marry a spiritual Master led her to meet Mahendra Trivedi in January 2011. When she met Mr. Trivedi, for the very first time, she realized that he was the Spiritual Master and the life-partner for whom she had been destined to be with. They were married on July 13th, 2011. She says, "I am first his disciple; then I am his wife. Under his guidance and supervision I have received a deeper and deeper connection with God."
Dahryn Trivedi connects to the Feminine Divine and as such feels a particular affinity and empathy with women; she feels compassion and understands the emotional trauma and confusion that many women experience in their lives. Dahryn Trivedi feels that through her role as a Trivedi Master™ she may help empower women and help them to overcome the emotional trauma they have had in their lives. Everyone Dahryn meets feels her compassion and love for all, they experience her deep desire to help all people from all types of backgrounds and her complete devotion to her divine purpose. She hopes to continue helping people through her Remote Individual Transmissions available from 2014.
During the call, participants were surprised and delighted when unexpectedly Mahendra Trivedi and Alice Branton joined together with Dahryn to give those who had registered for the webcast a combined Energy Transmission from all three Trivedi Masters™.
Mahendra Trivedi said this was given this in respect for all the love, devotion and support Dahryn has received from those on her calls. People were overwhelmed with gratitude for the generosity expressed by all the Trivedi Masters™ and described the powerful and beautiful experience they had received from this incredible Energy Transmission. People will look forward to seeing the beautiful transformation unravel in their lives as a result of such a powerful Energy Transmission.
Energy Transmissions administered through the thoughts of the Trivedi Masters™; Mahendra Trivedi, Alice Branton, Dahryn Trivedi and Gopal Nayak can transform both living organisms and non-living materials in ways that enhance performance and functionality so that they may serve a greater purpose. The ability to bring about this transformation is known as The Trivedi Effect®. The Trivedi Effect® has been validated through rigorous scientific testing whilst the possibility of transformation occurring as a result of the placebo effect has been ruled out. To learn more about the Trivedi Masters™ and the wonderful transformational properties of The Trivedi Effect® please visit The Trivedi Effect® website at: - http://www.trivedieffect.com
Over 200,000 people have already experienced The Trivedi Effect® Thousands of whom have left testimonials describing the remarkable benefits they received as a result. People have reported experiencing improvements in all aspects of life, in areas as far reaching as health, mental/physical/emotional well-being, finances, relationships, self-confidence, skin quality, sleep quality, career, sexual performance and pleasure, inner peace, happiness, clarity of life purpose, increased connection to the God of their understanding /Inner Guidance System and raised levels of consciousness. Many have also described how through a 'ripple' effect, people around them have also started to transform in a beneficial way.
Dahryn Trivedi, wife of Mahendra Trivedi, expressed her gratitude, love and devotion for the people before the Monthly Enhancement Program ended. Alice Branton will be leading the Monthly Enhancement calls from January 2014. Alice carries phenomenal capabilities and has, like Dahryn devoted her life to helping humanity and the world in her role as a Trivedi Master™. Alice Branton, like Dahryn Trivedi also emanates a deep desire to help people and is looking forward to connecting with people and helping them grow and transform through the Monthly Enhancement Programs in 2014. To find out more about the Energy Transmission Programs available, explore the benefits of receiving regular Energy Transmissions or sign up for Energy Transmissions please go to http://www.trivedimasterwellness.com/services/master-wellness-programs/