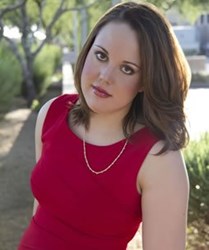 (PRWEB) December 26, 2013
Dahryn Trivedi, wife of Mahendra Trivedi and Trivedi Master™, is divinely gifted with the phenomenal ability to transmit transformational Universal Energy, known as The Trivedi Effect® through the direction of her thoughts to recipients located all over the world. Dahryn, who has regularly been offering Energy Transmissions to participants on her monthly enhancement Program, will be taking a rest from this program whilst she focuses on enhancing her personal connection to the Divine and takes time to develop her awareness of the world through travelling.
Dahryn will be administering her last Energy Transmission as part of the "Monthly Enhancement Program" on December 26, 2013 at 9 PM ET. Dahryn will be available for Remote Individual Energy Transmissions during 2014 and will still participate in workshops or retreats.
Connected to the Universal Feminine Energy, Dahryn Trivedi radiates integrity, love and compassion and expresses a strong desire to help people achieve absolute happiness in their lives.
Through The Trivedi Effect®, tens of thousands of individuals around the world have reported experiencing remarkable transformation in their lives. People have reported experiencing increased levels of happiness, abundance and mental clarity. In addition they have given testimony that health has dramatically improved, relationships have strengthened, levels of self-confidence have increased, that they developed a lasting sense of happiness, inner calmness and enhanced connection to their inner guidance system or God of their understanding. To find out what people have said about their experiences of The Trivedi Effect please visit Trivedi Testimonials at http://triveditestimonials.com/.
The phenomenal properties of The Trivedi Effect® have been explored in over 4,000 scientific experiments that have been conducted in leading research centers and Universities across the world. The Trivedi Effect® has been found to have the ability to change the character and behavior of living organisms and non-living materials, so that their performance, functionality and potential is enhanced in ways that allow them to serve a greater purpose. Based upon human testimonials The Trivedi Effect® has been found to have the ability to optimize human potential. To view the results of the scientific research undertaken on The Trivedi Effect® please view Trivedi Science™ on http://www.trivediscience.com.
Mahendra Trivedi introduced the Trivedi Master Wellness® Monthly Enhancement Program (MEP) to give everyone the opportunity to receive Energy Transmissions on a regular basis so that they could maximize the profound benefits of The Trivedi Effect®. On this program people receive at least one Energy Transmission a month from a Trivedi Master™. The Monthly Enhancement Program is designed to help people reach their optimal potential over time (it is recommended to participate for six months at least to receive optimal benefits). Mahendra Trivedi designed this program to be accessible to people from all walks of life at a very affordable cost. Trivedi Master™ Alice Branton will be leading these programs from 2014. These programs are popular with people from all over the world, many of whom have described experiencing incredible life transforming and ongoing benefits as a result.
The program offers participants the opportunity to hear valuable discourses from Trivedi Masters™ as well as the chance to interact with them, ask questions and express their experiences. Energy Transmissions given as part of the program are received in the comfort of your own home.
The Monthly Enhancement Program taking place on December 26, 2013 will be a valuable opportunity to experience an Energy Transmission from Dahryn Trivedi. Future Energy Transmissions on the program will be offered by Alice Branton, the newest Trivedi Master™ to be chosen by the Divine /Creator. Mahendra Trivedi says Alice Branton already has powers most closely approximated to his own and has the ability to "thrill" the scientific world. Alice Branton, like Dahryn Trivedi, is a caring, devoted and compassionate woman with a great desire to help humanity and the world through this new role in her life. Both Trivedi Masters feel pride in being an American and envision a time when America will be a spiritual center for the entire world.
Dahryn Trivedi feels a particular affinity with women; she feels compassion and understands the emotional trauma and confusion that many women experience in their lives. Dahryn Trivedi feels that through her role as a Trivedi Master™ she may help women deal with and overcome the emotional trauma and confusion in their lives. She hopes to continue this work through Remote Individual Transmissions available from 2014.
Experience the last Monthly Enhancement Program of 2013 lead by Dahryn Trivedi. Why wait to take steps to transform your life? Experience for yourself the beautiful and transformational impact Dahryn Trivedi's Energy Transmission can have in your life. To register for this program or find out more about the Monthly Enhancement Program visit http://www.trivedieffect.com/programs/mep-monthly-enhancement-program/.