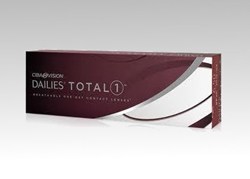 Online retailer contactlensmail.co.uk are proud to announce the launch of the new Dailies Total 1 to those that have been prescribed them by their opticians
(PRWEB UK) 28 July 2013
This new innovation of contact lenses is the first water gradient silicone hydrogel daily disposable. This means that there is a difference in water content from core to surface (33% to 80%). The focus is on comfort as it allows great amount of oxygen through the lens and excellent surface lubricity. Therefore, it excels in comfort throughout the day. This is significant because many people drop out of contact lens wear due to discomfort. along with this it also addresses tired and eye redness from lenses drying up, therefore allowing for whiter and healthier looking eyes.
Optometrist Kishan Devraj recommends speaking to an optometrist about this lens before considering purchase. 'This is a breakthrough in contact lens technology in an effort to address discomfort that so many patients experience through long wearing hours or computer use. It is important however to have an optometrist fit these contact lenses and possibly offer a trial to ensure best possible vision and fitting to reduce complications. Having personally tried these contact lenses, it feels as though I'm not wearing any!'
This daily disposable contact lens comes at a time of significant growth in the contact lens market worldwide. More people are switching to daily disposables. In fact EUROMCONTACT published a study suggesting the market share of contact lenses across 31 different countries. 43% of the share comprised of daily disposable lenses. not surprisingly, dailies are taking a 2.1% year-on-year growth.
Online retailer contactlensmail.co.uk are proud to announce the launch of the new Dailies Total 1 to those that have been prescribed them by their opticians. A more personalised service along with free delivery and very low cost makes the online company unique in their selling.