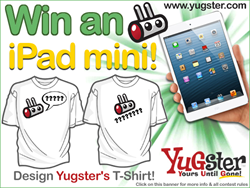 Salt Lake City, UT (PRWEB) March 10, 2014
Yugster.com is a popular daily deals website that is one of the pioneers of the industry, along with Woot.com. New daily deal websites have been popping up like a mushroom fungus over the last few years, but only the pioneers of the daily deals are staying on top. New deal sites sell mostly cheap products that can be found at local thrifty stores, but the giants of all deal sites, like Yugster & Woot, are where savvy bargain hunters hang around to grab deals on name brand products. Yugster deals are frequently highlighted on popular deal sights like Dealnews.com.
Yugster likes to reward their customers in several ways, through sweepstakes, contests, and even member rewards points, which give their customers even better prices than the posted site's pricing. Yugster's newest sweepstakes and contest is for a brand new Apple iPad Mini. This contest is not only for Yugster Members, but for new visitors to Yugster.com as well. The sweepstakes is easy to enter. Visitors only need to enter in their email address. They can, however, get more chances to win the iPad Mini by referring friends, designing a T-Shirt for the contest, or simply by voting on a design entry. Yugster has already given away an iPod, iPad Mini, Nexus 7 Tablet, Beats Headphones, and many other prizes in the last few months.
Yugster also likes to reward frequent shoppers with their Yugster Reward Points program, also known as YugPoints. The more customers buy from Yugster, the bigger their savings can be. Yugster will sometimes knock twenty dollars off a computer for customers who have higher membership levels. They'll also discount products as much as an extra 30% off the posted price the non-member sees.
Yugster also gives away $20 Yugster Gift Cards every single day. At the bottom of their daily deals email, which is sent out every morning exhibiting the new deals of the day, Yugster rewards one of their customers with this extra bonus every single day. Yugster loves loyalty, and rewards it well.
Besides the rewards, Yugster is the place to get discounts on consumer electronics. Yugster loads up a section of their website, called Plugster's Picks, with all of their best past deals. Right now on this deal page, you can grab an Apple iPad 3 for $350, a Samsung 32GB microSDHC Card for $16.97, and 100 Duracell batteries for $37.97.
The deals at Yugster.com never stop, and just keep getting better. Based out of Salt Lake City, Utah, Yugster has been serving up deals for over 8 years now. Sign-up at Yugster.com to start saving on name brand products today. The deals of the day can also be found on their facebook page.