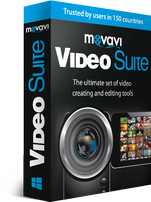 Save you hard earned money by visiting dailydeals4you.com
Sunnyvale, CA (PRWEB) October 02, 2017
Daily Deals is proud to announce its latest giveaway – 4 full licenses of Movavi Video Suite with a lifetime personal license. The value of each license is $129.85 and the sweepstakes will end on 10/21/2017 at 11:00 pm PST, so hurry up and grab this deal today!
Here are more details about this giveaway:
Prize: One-lifetime personal license for Movavi Video Suite valued at $129.85
Eligibility: Worldwide eligibility with multiple entries allowed
Purchase necessary: No
Sweepstakes end date: 10/21/2017 at 11:00 pm PST
Sweepstakes URL: http://www.dailydeals4you.com/coupons/movavi
Movavi Video Suite is the bestselling product offered by Movavi. It is an all-in-one software suite that contains everything needed for working with multimedia applications. This suite includes plenty of tools and applications that can be used to create slideshows and movies, convert files, record screencasts, import videos from VHS, TV tuners and webcams, and so much more! This software suite supports over 180 different file formats and supports leading technologies such as NVIDIA CUDA, Intel HD Graphics, NVENC and many others. Movavi Video Suite is packed with plenty of interesting features, and it has a simple and easy to use layout. This software suite offers everything that beginners and intermediates need for multimedia editing.
dailydeals4you.com helps visitors save their hard-earned money by offering various coupon codes and giveaways. The company is completely committed to offering the latest deals and coupons from top software, hardware, and antivirus providers. The website works as a one-stop shop for all coupon codes related to software applications, antivirus software and hardware. Visitors can find the best coupon codes on the website including apowersoft coupon, AVS4you coupon, Bitdefender coupon and Movavi discount coupon, among several others.
dailydeals4you.com also provides functions for visitors to monitor the availability of new coupons. If visitors are interested in getting new coupons from a certain company, they can subscribe to the mailing list for that particular company. And, whenever new coupons are available, email notifications will be sent out to everyone on the mailing list. This way, visitors need not manually search for coupon codes every single time. The website also offers RSS feeds which visitors can subscribe to and daily updates about different types of codes or coupon of their choice. This way, visitors will never miss notifications for new coupons and deals.
This special giveaway of four full licenses of Movavi Video Suite is exclusive to the dailydeals4you website. For more information on how to participate in this giveaway, please visit the sweepstakes URL above. This sweepstake allows 15 different easy ways to participate. Visitors can enter the giveaway through the major social media platforms including Facebook, Twitter, and Pinterest, among others. Alternatively, visitors can also answer a question on how to improve the dailydeals4you website to enter the giveaway. Participating in more ways than one will increase the chance to win the prize of this special giveaway.
For the latest coupon codes and deals, visit http://www.dailydeals4you.com and save big on software, hardware, and antivirus products!