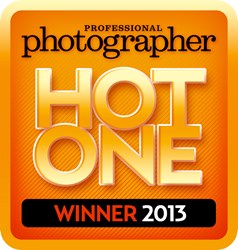 "Just two years ago my partner and I were asking ourselves how we could make capturing a child's smile a little easier, and now we are winning an award for our creation!" says child photographer Christine DeSavino.
Hillsdale, NJ (PRWEB) August 01, 2013
The annual Hot One Awards honor the hottest products for professional photographers. From hundreds of entries received, a panel of judges, who are all professional photographers, name their top choice in dozens of photography products and services.
This year, the PPA judges chose the the DaisyGrip as the best posing tool in the photography industry with a Hot One Award.
Created out of necessity by child photographer Christine DeSavino, the DaisyGrip was designed to help capture the smile of a child. It does this by holding a wide variety of toys just above the lens of a camera. It can hold finger and hand puppets, stuffed animals, small toys, and even an iPhone® playing a child's favorite cartoon.
"It's such a great feeling to have won this award from PPA!" says DaisyGrip co-creator and child photographer Christine DeSavino. "Just two years ago my partner and I were asking ourselves how we could make capturing a child's smile a little easier, and now we are winning an award for our creation! I often look to PPA for both instruction and inspiration, and now we're part of the magazine...thank you PPA!"
The trusted panel of judges for the 14th annual Hot One Awards established the best new consumer products for its readers. "The winners of the 2013 Hot One Awards represent 'the pro's choice' of new photographic products," said Jeff Kent, Hot One Awards editor for Professional Photographer. "This isn't some scientific analysis conducted by a bunch of clinicians in lab coats, but a poll of real pros working in the real world. The result is a list of worthy winners that help make professional photography easier, more creative and more efficient."
For the past 13 years, the Hot One Awards have provided Professional Photographer magazine's readership with a resource of the most effective and innovative products available in a variety of price ranges. Readers are treated to a resource compiled by independent, practicing professional photographers, selected for their expertise and knowledge. This year's independent panel of more than 30 judges voted on products that ranged from cameras and lenses to photo albums and mobile apps. They made their selections based on overall quality, innovation, design, performance and value for the price.
For more than 100 years, Professional Photographer, the official magazine of Professional Photographers of America (PPA), has helped readers advance careers in the photographic industry. Each issue contains practical yet cutting-edge lessons in the artistic, business and technological aspects of professional photography. No other magazine offers a more influential presentation of the people, trends, products and photographs changing and defining the portrait, wedding and commercial photography landscapes.
For Professional Photographer magazine subscription information and for a full list of Hot One winners, visit PPmag.com.
For more information on the award winning DaisyGrip, visit DaisyGrip.com.
---------------------------------------
About PPA:
Professional Photographers of America (PPA) is the largest international non-profit association created by professional photographers, for professional photographers. Almost as long-lived as photography itself, PPA has roots back to 1869. It has never stopped growing and looking for new ways to assist its now 26,000 members through protection, education and resources for their continued success in the industry. See why photographers love PPA at http://www.ppa.com.
About DaisyGrip:
DaisyGrip, LLC - For a Child's Smile - was recently formed by Christine DeSavino and David Harges, a husband and wife team, and owners of Christine DeSavino Photography. As an offshoot to their children's portraiture business, Christine and David formed this new business to sell and promote the DaisyGrip™, a brand new tool which they designed specifically to help photographers overcome one of the toughest obstacles when photographing a child - capturing authentic smiles and expressions.
About Christine DeSavino Photography:
Christine DeSavino Photography, LLC - a NJ based children's portrait studio - was started in 2007 and has quickly become a premiere custom photography service in northern NJ & the NYC metro area. Specializing in the fine art of children's portrait photography, Christine focuses on the child, capturing the beauty and innocence of each stage in the child's journey. From the expecting mother to the newborn infant, from the precious baby to the determined toddler, from the curious child to the confident teen, her photography captures the unique qualities that children embody.
Company Contact:
DaisyGrip - For a Child's Smile, For a Photographer's Camera
Founded 2011 by the owners of NJ Child Portrait Studio, Christine DeSavino Photography
www(dot)daisygrip(dot)com
david(at)daisygrip(dot)com
Christine DeSavino Photography - Fine Art Children's Portraiture - NYC, NJ & LBI
Christine DeSavino - Photographer & Owner
David Harges - Business Manager & Owner
www(dot)christinedesavino(dot)com
chris(at)christinedesavino(dot)com