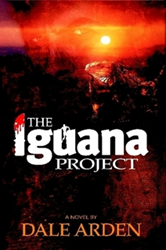 DOUBLE OAK, Texas (PRWEB) January 29, 2016
When Patrick Brádaigh, a successful lawyer, becomes involved with a NASA project to place astronauts in a state of cryogenic sleep, he sees an opportunity. One by one, he captures the mobsters who murdered his wife and places them in cryo-capsules, storing them away, perhaps forever.
Inspired by his lifelong desire to write a novel, Dale Arden created "The Iguana Project" (published by Lulu). "The book's story line had been bouncing around in my head for years and needed to get down on paper," Arden says.
A tense, exciting, romantic thriller, "The Iguana Project" is set in the fantasy world of the ultra-rich. Capturing the mystery of science and humanity's web of deception in a revenge story, the novel moves at a compelling clip.
"My research into scientific and social issues is evident as the story unfolds," Arden says. "My book is a must read for readers who are looking for something new and thought-provoking while being highly entertained."
"The Iguana Project"
By Dale Arden
Hardcover | 6 x 9 in | 290 pages | ISBN 9781483432700
Softcover | 6 x 9 in | 290 pages | ISBN 9781483432687
E-Book | 290 pages | ISBN 9781483432694
About the Author
Dale Arden is the retired president and CEO of an international consultant firm. He has published articles in trade publications and been a guest speaker at many international business conferences. The Arthur Young Entrepreneurial Services Organization nominated him as Entrepreneur of the Year. He holds a bachelor's degree from Washington University in St. Louis. This is his first book. More information can be found at: http://www.DaleArden.com.
Lulu empowers people of all ages to explore and express their interests, passions and expertise through books, photography and art. Since introducing self-publishing in 2002, Lulu has empowered creators in more than 225 countries and territories to produce nearly two million publications. Lulu Jr. allows children to become published authors, encouraging creativity, strengthening literacy and building self-esteem. Picture.com offers professional photography of collegiate and professional sports, memorable and historic events, fine art and home décor. For more information, please visit lulu.com.