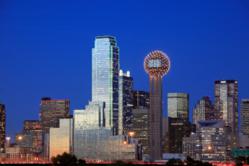 The first half of 2013 stands as one of the most remarkable periods of economic turnaround and corresponding seller profit in the history of Dallas real estate.
Dallas, TX (PRWEB) July 08, 2013
For any doubters who thought the tremendous surge in the Dallas housing market would begin to taper off after the busy spring season that saw record growth in median home list prices, the new numbers are in, and they serve as evidence that this upwardly mobile market is showing no signs of letting up.
Prudential Texas Properties reports that a June 24, 2013 report from analytics company Altos Research saw the median home list price for Dallas homes at $339,000, precisely matching the four-year high the market saw in Altos' May 27th report. The current report also found that Dallas home inventory levels remain extremely low, and that the market is primed to continue its upward climb. It also stated that due to an extremely high market action index—an advanced algorithm that figures in an array of supply and demand variables—Dallas remains a very strong seller's market.
Watch a 60-second Dallas real estate market update.
In support of low inventory and high demand, the report cited 2,436 properties on the market, a number that is half of what it was two years ago, and one the has remained extremely stable and consistent since February of this year. The 124 days on market (DOM) for Dallas homes in this report is also a number that has stayed fairly level since hitting a low in late May after plummeting in favor of sellers through the first four-to-five months of 2013.
And in terms of DOM, the home listing brackets that are performing best in this area—out of the four listing price quartiles that Altos provides—are the second and third quartiles, coming in at 101 and 106 DOM, respectively. The third quartile posted a median list price of $239,900 and the second quartile posted one of $469,600. What this means for the average Dallas home seller looking to cash in on this rapid-turnover market is that they can have the reassurance that a home roughly around this monetary range will most likely be absorbed within about three months of being put on the market. This recipe for quick and lucrative turnover is exactly the sort of supporting evidence that boosts seller confidence and is indicative of the nature of this strong Dallas seller's market.
"The first half of 2013 stands as one of the most remarkable periods of economic turnaround and corresponding seller profit in the history of Dallas real estate," says DD Flynn, VP of Marketing with Prudential Texas Properties. "And with the variables of buyer demand and inventory remaining very low, as well as list prices at levels they haven't seen in half a decade, we are truly in the thick of an upwardly mobile seller's market."