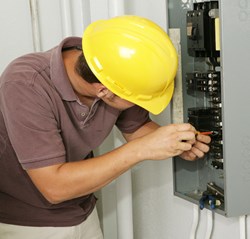 Dallas, TX (PRWEB) January 01, 2014
Anyone needing immediate assistance with electric panel boxes, circuit breakers, and load centers by a licensed electrician in Highland Park, University Park, Addison, or Dallas, Texas can contact the professionals at Supreme Electric & Solar by calling 469-554-8658 or visit the website at http://www.supremeelectricandsolar.com.
Due to the increased demand for immediate electrical assistance, Supreme Electric & Solar has added more electricians in order to serve the North Dallas with faster response times. Any number of things can happen causing an electrical short melting wires or even starting a fire. There have been instances where electricians have found that heavy rain penetrated a breaker box causing fire and a loss of electricity.
Some older homes may have fuse panels which need to be updated with newer circuit breakers by a qualified electrician to prevent problems later on. Load centers are areas where all the breakers are housed. These should always be installed by a licensed electrician, not a handy man. A qualified electrician will know the current building codes and make sure everything is done properly so as not to cause problems later down the road.
Anyone living in Dallas, University Park, Highland Park, or Addison will also be pleased to know that many other services are also available by these licensed electricians such as new construction wiring, electric remodeling and additions, solar panels, electric service upgrades, security lighting, pools, spa, outdoor living, patios, patio covers, electrical outlets, wireless security systems, remote home automation, and much more.
Supreme Electric and Solar is a licensed electrical contractor & electrician serving Dallas, University Park, Highland Park, and Addison, Texas specializing in residential and commercial troubleshooting, as well as Solar Panel Installation. For more information, call 469-554-8658 or visit the website at http://www.supremeelectricandsolar.com