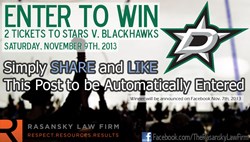 Dallas, Texas (PRWEB) November 01, 2013
The attorneys at Rasansky Law Firm are holding a drawing for two (2) tickets to the Dallas Stars v. Chicago Blackhawks game on Saturday November 9th, 2013, in Dallas, TX.
The drawing is open to anyone who has a Facebook account, who is 18 years of age or older, a legal resident of the United States, and can pick up (or make arrangements to pick up) the tickets on Friday, November 8th, 2013. To be entered into the drawing, you must first "Like" Rasansky Law Firm on Facebook, and then share and like the official contest status update from 10/16/2013. Contestants can enter up to 5 times a day by sharing more often!
The drawing will take place Thursday, November 7th, 2013, around 4:30 p.m. CST in the Rasansky Law Firm offices at 2525 McKinnon #625, Dallas, Texas. The winner will be announced on Facebook. With only a few days left to enter, we encourage you to enter today!
Rasansky Law Firm is holding this drawing in an effort to better-connect with our community, and to celebrate a great Dallas Stars hockey game! Visit https://www.facebook.com/events/235671783255313/ for full contest details.
Rasansky Law Firm
Dallas Personal Injury Lawyers
2525 McKinnon #625, Dallas, TX 76201
http://www.jrlawfirm.com/